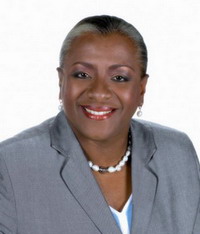 Bahamas Press wonders if, Kaye Forbes-Smith, the official resident Ambassador to Atlanta is still operating in her office of has she taken up the job as the new FNM spokeswoman for the upcoming Nov. general elections.
The ambassador was seen in Bamboo Town, big as Billy, standing in the middle of the chair flinging exercise at the borrow-a-crowd meeting last evening. WHAT A NEW LOW!
While matters are pressing in the diplomatic world, and while the Bahamas is in dire need of new capital inflows from investors around the globe, the GRAY HAIR Ambassador could be seen smiling away in Bamboo Town as the outgoing regime made its case.
Ambassador Kaye, you would remember, was at the center of the FNM Grand Bahama Women's Association big bust up last year, when she returned to that island in a desperate attempt to become the candidate for the Eight Mile Rock Constituency. She was rejected. She then sought another seat and was again rejected there. Now all this is happening while she should be in foreign doing the people's business. In protest to her return to GB, the entire executive committee of the FNM Women Association on that island tendered their resignations.
What gets us though is this, why would a woman representing ALL BAHAMIANS in Atlanta, use public money to come to Nassau to attend an FNM Borrow_A_CROWD meeting; Staged, Managed, Produced and Directed by Papa himself; all at the public expense?
What a new low in the Bahamas.
Branville has nothing to fear! There were only 7 voters out of Bamboo Town Constituency at the meeting. The remainder were borrowed. Each MP in the southern district were required to invite 40 members of each branch in that area. In fact, a close relative of a senior editor of BP was contacted by Brensil Rolle to come out to the meeting. She lives in Garden Hills.
Perhaps Kaye Forbes-Smith was a special guest of Mavis Johnson-Collie, who a couple of weeks ago was said to have acted like the leader of a ZOE POUND Gang, which tried to breakup Bran McCartney's town meeting on the sale of BTC to Cable and Wireless.
It is also alleged that Collie and the other ZOE POUND members were instructed by FNM headquarters to disrupt the meeting held by McCartney.
THEY HAVE NO DAMN SHAME!
WE NEED CHANGE!