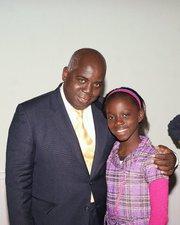 Statement By Philip Brave Davis:
The Free National Movement Government has completely wasted the Bahamian people's time these past four years, as ordinary Bahamians wait with bated breath for solutions to the spiraling crime and unemployment issues manufactured by its failed leadership.
Young Bahamians in particular are stuck in the pit of hopelessness and despair as the Free National Movement Government refused to believe in the young; dashing their hopes and dreams of a good education and a good job.
The FNM cut government subventions to private schools and then canceled funding to the Ranfurly Home for Children and other needed NGOs supporting youth programmes.
And if that wasn't enough, the heartless FNM government early in their term raised taxes on text books, pencils, and other school related material; placing an UNGODLY tax also on the Holy Bible.
Students all across the country remember how the FNM government cancelled the Student Loan Programme, and then again like an assassin, gutted the education budget by cutting funding to the College of the Bahamas.
Every year the FNM has left thousands of school leavers in the wilderness of hopelessness by its failure to present any plan to find employment. In a few days another 2000 plus high school seniors are doomed to the same fate. Why? Because the FNM has no jobs and no plan for these young Bahamians.
Instead the FNM continues to find more jobs for the Chinese and again for the Argentines, piling millions upon millions into the coffers of the their foreign masters, while the young, poor and struggling in the Bahamas have stalled for four painful years; left struggling with higher taxes and greater debt unseen in a generation.
Young Bahamians have turned the corner on the FNM and today are registering in droves; waiting for the day when Ingraham finds the courage to ring the bell.
 —-END—