BP UPDATE ON TS Cristobal….>>>>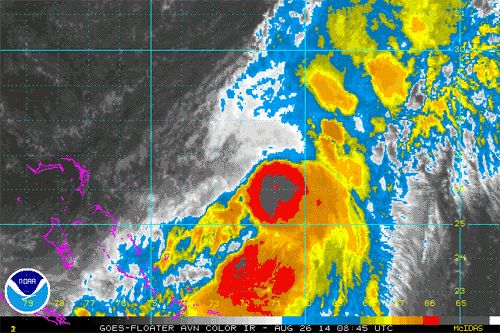 AccuWeather Global Weather Center — 26 August 2014 — AccuWeather reports while Hurricane Cristobal will track east of the United States this week, it will spread rough surf along much of the Atlantic coast and will have some direct impact on Bermuda.
Hurricane hunter aircraft found 75-mph winds in thunderstorms just southeast of the center of Cristobal Monday evening. Cristobal became the Atlantic Basin's third hurricane of the season, despite a very lopsided appearance on satellite photos.
According to AccuWeather Hurricane Expert Dan Kottlowski, "We expect Cristobal to become even better organized and possibly strengthen at midweek."
Swells generated by the distant storm will reach the coast in the form of significant breakers.
Rough surf and the likelihood of frequent and strong rip currents will exist from Florida to North Carolina and southeastern Virginia through Wednesday.
From Maryland and Delaware to New Jersey, New York and New England, the risk will peak Wednesday to Thursday. Rough surf may continue to be a problem into Friday from Long Island to Nova Scotia.
Only swim in waters under the watchful eye of lifeguards.
Cristobal will bring large waves well offshore averaging 12 to 25 feet a couple of hundred miles at sea.
Bermuda to Have Encounter with Cristobal
Bermuda, located well off the Carolina coast in the Atlantic and a popular tourist destination, will have the most significant effects from Cristobal with the center of the storm passing perhaps a couple of hundred miles to the west and north.
The islands of Bermuda have been experiencing rainfall nearly every day of this month and have received more than one and a half times their normal rain for August.