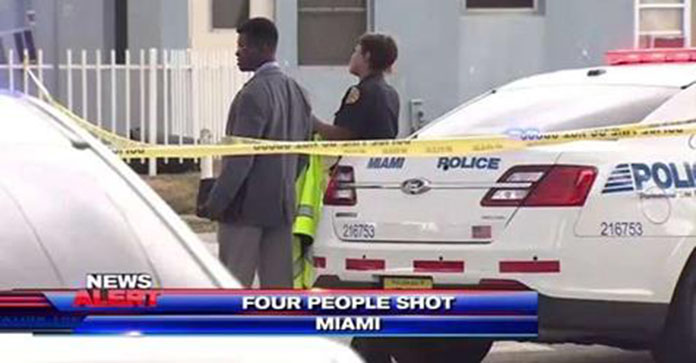 MIAMI – Miami's Liberty City neighborhood was rocked by gunfire Sunday afternoon, claiming the lives of two people and sending two others to the hospital.
According to City of Miami Police, four males, including two teens, were shot near Northwest 63rd Street and 13th Avenue, at around 2 p.m.
Responding officers found the victims suffering from gunshot wounds.
"According to preliminary information, they had been sitting down on the alleyway off of 13th Avenue and 63rd Street when they were approached by suspects," said Miami Police Officer Kiara Delva.
Investigators said the assailants fired at least 25 shots and took off.
"It is believed that there are multiple shooters, but we cannot confirm an exact number," said Delva.
One victim was pronounced dead at the scene.
Miami Fire Rescue units rushed the three other victims to Ryder Trauma Center, where a second victim succumbed to his injuries a short time later.
Police shut down Northwest 13th Court and 14th Avenue between 63rd and 64th streets while they investigated.
Officials said one of the deceased victims was under 18 years old. Loved ones identified him as Richard Dixon.
7News cameras captured distraught family members consoling each other outside Jackson Memorial Hospital.
A relative spoke to 7News about Dixon. "A family's kid. We never had any problems out of Ricky," she said.
Back at the crime scene, investigators collected evidence as they attempted to piece together what led to the shooting.
Dwight Wells said he knows the victims who were killed. "This is a tough pill to swallow," he said.
City of Miami Mayor Francis Suarez said there is a possible motive behind the shooting. "It appears that it was gang-related," he said.