Media Boss Ken 'Six' Francis – 1930 – 2013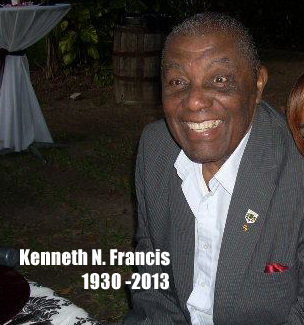 Nassau, Bahamas – Breaking News coming into Bahamas Press confirms the passing of former Nassau Guardian Publisher, Kenneth N. Francis.
He was 82-years-old.
Ken "Six" Francis, we can report, passed away quietly in hospital this morning around 3:22am.
Many who knew him would remember that, around that same time, he would have made his usual commute to the morning daily to inspect the final leg of the newspaper was set and ready to leave the building on time.
We believe his morning inspection today was to view the morning pages in the heavenly, and join that great fellowship with the saints.
Much to his credit he was instrumental in shaping the pages of the print business much of his life as he brought onboard the new generation of talent in the media business. It was during Ken Francis' era when the Nassau Guardian was transformed into a fully digital publishing facility.
He has left his indelible print on the sands of time here in the Bahamas and across the region.
Today he leaves us to be forevermore with the blessed and take up his place in the court of the saints.
He is survived by his wife Stephanie, children, Joyann, Patricia, Stephen, Debra and Kenrah, along with a host of relatives and friends.
Rest eternal grant unto him O Lord. Amen!