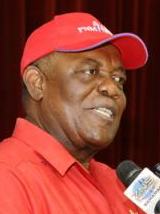 Breaking News!!! THE PREACHER'S WIFE..
Once again our heated stories seem to be emanating from the northern Bahamas. PM Hubert Ingraham is facing the cold reality that the PLP'S candidate for North Abaco is a viable and formidable force to be reckoned with.
We are learning why a prominent televangelist was seen at the forefront of a recently held FNM rally on the island of Abaco.
We have been reliably informed that Ingraham's desperation had sunk to a new level as he now has the wife of a dope pusher turned pastor pounding the pavement in North Abaco trying to hire voters for the Job program.
BP asks what are the standard codes and procedures for hiring Government employees and is it out of the standards of norms and procedures for civilians to engage in the hiring process?
We are being told that the fiasco is so out of control that Ingraham sent instructions to shut the dam "ting" down until he comes. To our knowledge, Administrator Cephas Cooper has responsibility for the Job program on that northern island .
How the preacher's wife got in the front of the line heading the program is a question the preacher will have to pray to God about. Like that preacher always says "we are preparing souls for eternity"
We Report Yinna Decide…