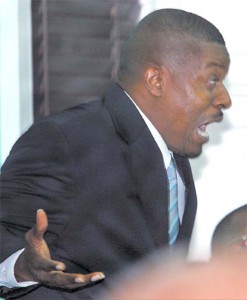 Nassau, Bahamas — A female stalwart councilor of the PLP on her way home from a meeting at the PLP headquaters last night, was accosted, verbally insulted and threatened with bodily harm in the Dean Street area just off Nassau Street.
A known FNM goon from Tyler Street, Chippingham, and general of Zhivargo Laing, nicknamed GORDO, was the culprit.
The lady, in her mid-fifties, stopped at a shop through Dean Street and was attacked because she wore her PLP paraphernalia.
Gordo, a contractor who lives off the largesse of FNM contracts, is a foot soldier in the Fort Charlotte community.
Following the incident, the lady filed a complaint at the Nassau Street Police Station with police officer #471 Miller.
Officer Miller indicated to the distraught lady that he would be on duty at 2 PM today and she must contact him 6 PM this evening.
We hope the police take this matter with the utmost seriousness and we call on junior Minister Laing to condemn the nasty violent action by his supporter in the strongest possible terms.
The lady was in fear of her life having regard to the lateness of the hour and the area in which she found herself.
We are informed by eyewitnesses that Gordo had to be restrained twice from hitting the lady with an object.
Bahamas Press cries SHAME on these desperate FNM goon squads who have seen the handwriting on the wall and are watching their gravy train pull out of the station without them on board.
STOP IT!