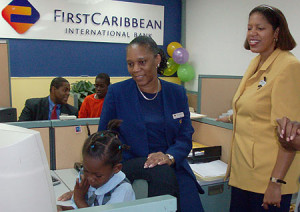 Nassau, Bahamas: We've now have confirmed that First Caribbean Bank (BAHAMAS), a major lender in the country, is now joining the latest financial woes.
Bahamas Press can now confirm, 160 employees at the bank will receive their walking papers this week. A high-profile banker on the board of FCB has confirmed to Bahamas Press that the move is necessary to restructure the business and save the bank from falling into problem.
"We must realign our staff levels to better adapt to the global financial crisis now facing our globe. Persons following the news around the world should understand that the Bahamas operates in a global village, therefore we are also susceptible to failures now gripping banks around the world," the banker said.
Bahamas Press listened to comments of the Prime Minister Hubert Ingraham in the House of Assembly this morning where he issued a statement on the collapse of CLICO Bahamas. Over 180 workers lost their jobs last week at the insurance company. Also some 29,000 policyholders have lost their investments due to the fall of the company. The lack of a statement from CLICO has left policyholders crying out in anger on the daily talkshows.
Prime Minister Ingraham said NOT ONE WORD about First Caribbean Bank (BAHAMAS) to members of the public this morning.