Wall Street Journal Special on Bahamar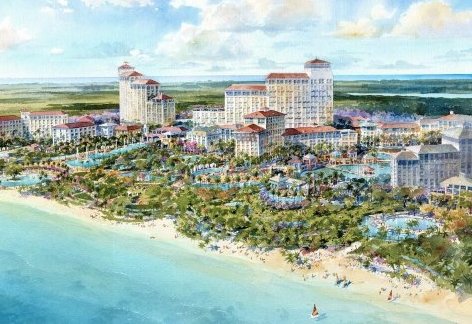 By CRAIG KARMIN and MATT WIRZ
NASSAU, the Bahamas—Thousands of Chinese construction employees are working from dawn until dusk on this sun-drenched Caribbean island in a race to finish China's largest overseas commercial real-estate project. But delays and labor clashes are dulling the buzz surrounding the venture and threaten to undermine China's future business.
When completed, the $3.5 billion resort and casino, being built by a Chinese state-owned company, will include 2,200 new hotel rooms, luxury condominiums priced as high as $12 million, a 100,000-square-foot casino and an 18-hole golf course. Singer Lenny Kravitz is designing the nightclub.
China's goal is to create one of the Caribbean's most glamorous destinations, and its new project will boast prestigious brands such as Hyatt Hotels Corp.'s Grand Hyatt and the luxury Rosewood Hotels & Resorts. Beijing plans to use this showpiece to drum up more business in the region and in the U.S. for its construction industry. Longer term, it hopes to establish a reputation as a purveyor of luxury resorts to burnish its cachet and economic clout.
But construction delays and labor strife are calling that model into question. The developers of the resort, known as Baha Mar, have said they would miss their December 2014 deadline by about six months, pushing back the opening to the slower summer season. The project also has sown discord among local workers and business owners who complain they haven't shared in the economic benefits of the construction thus far.
A Baha Mar spokeswoman says of the opening, "We're focused on late spring 2015," but declined to comment further.
China's model of shipping in workers for overseas construction projects has been successful in Sri Lanka, Angola and other parts of the world, proving an efficient way to build projects rapidly. But the problems in the Bahamas suggest it might not work everywhere. A black eye here could make it harder for the world's second-largest economy to win contracts in other markets where it hopes to gain a foothold.
"When they move to richer countries, they won't be able to dictate terms and will have to comply more with the locals," saysDerek Scissors, an economist and resident scholar for American Enterprise Institute who tracks China's overseas construction.
The builder, China State Construction Engineering Corp., imported a workforce of about 4,000 from China for the Baha Mar project. In a country where unemployment has hovered around 15%, more than 70% of the laborers on Baha Mar are foreign, mostly Chinese.
The foreign influx has fueled resentment among local construction workers, contractors say. Blue- and yellow-helmeted Chinese workers eat their meals primarily at the construction site and sleep nearby in temporary camps rather than staying in local lodging and eating at the island's restaurants.
"We call them the prisoners," says Chrys Sturrup, a driver in Nassau. "We never see them at the beach or on the street."
Another problem: Many of the spending decisions are being made out of China rather than on the ground in the Bahamas, which can slow progress. Robert Myers, whose landscaping company is working on Baha Mar, says getting paid has become a chronic issue because any questions over accounting require officials in Beijing to sign off.
"It's maddening," he says of the monthslong delays. "It sucks up management hours trying to get everyone paid."
Miscommunication between China State Construction and Western subcontractors also has caused problems, people involved in the project said.
When construction fell behind schedule this year, for example, the Chinese firm postponed the removal date of cranes it used for high-rises without informing subcontractors tasked with building out the grounds, a person on the project said. Dozens of workers and machines showed up to excavate pools and irrigation channels only to find their way blocked by concrete pads the cranes rest on and were forced to sit idle for months, he said.
Baha Mar is the brainchild of Sarkis Izmirlian, a businessman whose father had amassed a fortune through African peanut farms. His vision: a megaresort to challenge Atlantis, the 3,400-room resort complex, gaming and entertainment center on nearby Paradise Island. But when the financial crisis hit, Mr. Izmirlian's hotel and casino partners backed out.
China Construction America Inc., the U.S. subsidiary of the Chinese construction giant, helped Mr. Izmirlian line up financing, a China Construction America executive said.
China's Export-Import bank agreed to provide a $2.5 billion loan for the project. China State Construction put in $150 million for a preferred equity stake, while the Izmirlian family has invested about $850 million.
A Baha Mar study estimated it will create 8,000 new jobs directly and indirectly on the island. The Bahamian prime minister even agreed to move his office down the road to create more room for the project.
Construction began in February 2011 with what Mr. Izmirlian promised was a nonnegotiable plan of opening by the start of high season in December 2014. Soon that timetable proved impossible.
Mr. Izmirlian in April called a meeting with senior China Construction officials in China and complained about the halting progress. Within weeks, the Chinese firm sent hundreds of additional workers to the project.
In June, Morgans Hotel Group, which had been hired to manage one of Baha Mar's four new hotels, dropped out after the developer attempted a $10 million capital call, say people familiar with the matter.
Hotelier Sam Nazarian's SLS Lux brand is replacing Morgans. Despite the project's bumpy start, he says he is optimistic.
"You see the passion and personality of this project," he says.
Write to Craig Karmin atcraig.karmin@wsj.com and Matt Wirz atmatthieu.wirz@wsj.com