Drug Dealer Weds in Central Police Station Saturday Morning??? LOOK WHAT NASSAU HAS COME TOO!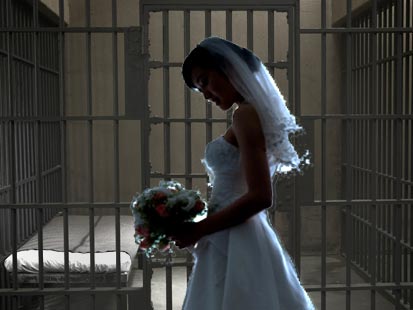 Investigation now opened as to how did a senior Ingraham wartime general allowed Central Police jailhouse to be transformed for a private wedding????
Nassau, Bahamas — Senior lawmen are now embarrassed after a high-ranking officer allowed a man detained for drug possession wed in the city jail.
A senior police officer is expected to be collected at quarter-guard this afternoon – at the Royal Bahamas Police Head Office on East Street North – after what some are describing to be a major breech in the National Security of the country.
Bahamas Press was at Central Police Station on Saturday like a fly on the wall to witness the unthinkable: a Royal Wedding between an arrested drug dealer and his girlfriend while he sat in jail.
We can report Central Police Station was turned into a church after a man busted by police for a major drug crime on Friday was married over the weekend while held in police custody.
Well what in da hell is dis??
Now you would remember how BP reported that around 7:00am Police Mobile Division officers were on routine patrol at Potters Cay Dock when they observed a male employee of a mail boat hand over a package to two men. The two men then drove off in a vehicle. Police intercepted the vehicle and discovered two packages containing over 50 pounds of marijuana in the vehicle. All three men were taken into custody and are expected to appear in court early this week to be formally charged.
Well, we can now report that one of the suspects was about to get married on Saturday morning, but found himself behind bars to the disappointment of his bride.
Sources close to the police tell us, "…before we knew it, the Central Police Station was being transformed into a church, and a constable, who must have known the arrested bridegroom, turned witness in the wedding."
UNBELIEVABLE!
BP turned on the CCTV in front of the station and, before we knew it, the bride was walking up the steps of Central Station like she was walking up Christ Church Cathedral steps in downtown Nassau! We could not believe this was happening in the city jail!
Central Police Precinct is known for serious clandestine behaviour by rogue police officers. One time a woman accused a police officer of rape in that same jail where the wedding took place. Another time a big-time drug king ping walked right out of the cell like Houdini and escaped police custody. And now someone high up has pulled off a Royal Wedding in the public jailhouse? My GOODNESS! Boy, I tell ya we in the Bahamas are one bunch a 'junkanoo bandits'!
But ONLY BP WAS LIVE ON THE SCENE TO GIVE YINNER THIS REPORT! A REPORT THAT WILL NEVER MAKE THE PAGES OF THE WUTLESS MEDIA OF THE BAHAMAS!
We know the Royal Bahamas Police Force is an institution of discipline. We know and expect heads to roll following this incident. And if this is the new pattern in the public jailhouse then pastors might as well make their way up to Fox Hill Prison and start marrying man.
We report yinner decide!