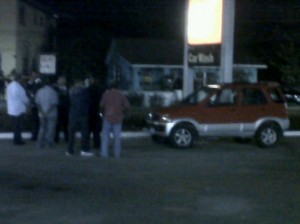 BREAKING UPDATE: The woman shot in the parking lot at Texaco Wulff Road was pronounced dead just minutes ago
Bahamas Press can confirm the woman was shot 3 times about the body. The fatal shooting occurred at 10PM less than :30 minutes ago.
Police we are told now have the shooting suspect who fled the scene of the crime in a white taxi. The shooter was captured by police in the Fox Hill area just seconds ago.
Standby for footage of this 3rd homicide for 2011 and 189th murder since 2009.