Police need your help in getting this man who attempted to murder two police officers off the streets…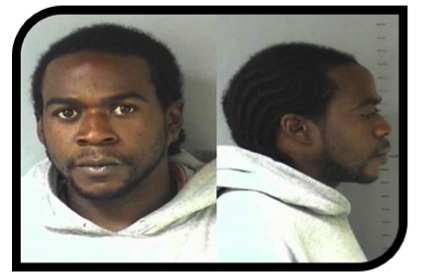 Nassau, Bahamas — Not seen since the days Basil Dean was on the force intensive saturation patrols are deep on the island of New Providence tonight as an island-wide police manhunt has been launched today to find murder suspect RENALDO ADDERLEY.
The suspect named is age 27-YEARS OF SPICE STREET, PINEWOOD GARDENS, who injured two Police Officers during a shooting incident today.
BP was live on the scene when the incident unfolded and here's what we know; according to police reports around 3:45pm Officers from the Selective Enforcement Team were on patrol in Pinewood Gardens when they spotted the suspect Adderley driving a 2005 gold Honda vehicle with another man.
When officers tried to stop the suspect, he fled, leading officers on a high-speed chase throughout the Pinewood Gardens community where he crashed into a parked vehicle on Cascarilla Street.
The suspect Adderley and the other man then exited the vehicle, and fled on foot.
As the officers gave chase and the suspect fired multiple shots [30 rounds] into the direction of officers; resulting in an exchange of gunfire.
The suspect Adderley and his accomplice then fled into the nearby bushes where they were able to elude police.
Two of the officers received minor injuries to the head area and was taken to hospital via
EMS where they were treated and later discharged.
This bold murderer Adderley, is being described as having a dark brown complexion, medium built and about 5' 8" tall.
Detectives want to question Adderley for the murder of MARGARET OLTIME, the 55-year-old female of Amos Ferguson Street, who died at the scene on Sunday 3rd February 2013.
POLICE HAVE VOWED TO LEAVE NO STONES UNTURNED UNTIL THEY FIND THIS ARMED AND DANGEROUS SUSPECT AND BRING HIM TO JUSTICE.
Bahamas Press is warning all right thinking citizens to stand on high alert and help turn in this suspect, and if ya don't want to turn him in – yinner know what to do.
We report yinner decide!