Vivid, colourful design informative interesting, useful information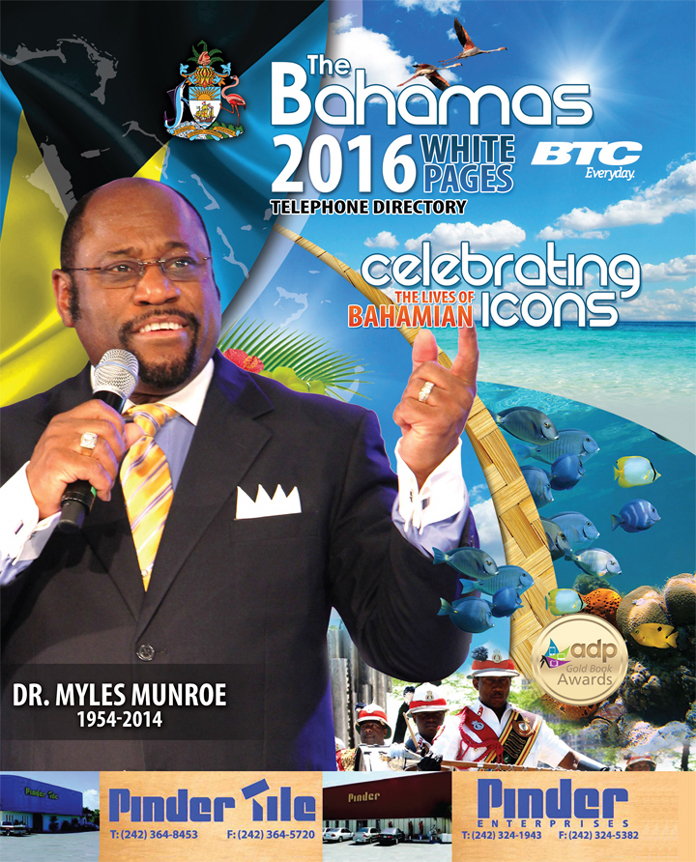 Nassau, Bahamas – Photographs of six national icons are proudly and prominently displayed in full colour on the five bold and beautiful covers of the 2016 Bahamas Telecommunications Company (BTC) Directories – their inspirational life-stories told inside. Packed with informative, interesting articles, stories and features, they are an invaluable powerhouse of local knowledge and everyday useful information. The books carry pertinent emergency and government information along with a myriad of material for BTC customers including summaries of BTC products and services, how to sign up for new services, billing information, and an extensive telecommunications history – a great resource for school students.
These handy, worthwhile annual reference books are a home and office essential whether the White or Yellow Page Directories, a smaller sized Mini of Business Listings, or the combination White and Yellow Pages serving Grand Bahama and Abaco, all now available at BTC locations and Post Offices nationwide.
The six featured deceased icons: Dr Myles Munroe, A. Bismark Coakley, Sir Albert Miller, Mildred 'Millie' Sands, Reno J. Brown and Captain Everett W. Roberts are regarded as National Heroes and remembered with others during Bahamian National Heroes' Day which honours the individuals who have contributed to the development of the Commonwealth of The Bahamas as a sovereign and independent state. The national list includes freedom fighters, politicians, religious leaders, educators, suffragettes, artists, cultural icons, sports icons, and entertainers. It was officially established in 2013, replacing Discovery Day (also known as Columbus Day).
BTC's cover selections were made by reviewing those that passed away in 2015 and certainly the Reverend Doctor Hervis L Bain Jr MBE JP, the designer of the Bahamas Coat of Arms and the National Flag of the Commonwealth of the Bahamas would have been featured had the Directories NOT already gone to press.
The cover of the White Pages pays homage to the late Dr Myles Munroe, the Yellow Pages A. Bismark Coakley, Mildred Sands and Reno J.Brown, the Grand Bahama Directory, Sir Albert Miller, the Abaco cover is of Captain Everett W. Roberts and a collage of all 6 features on the Mini Directory cover.
Dr. Myles Munroe rightly commands attention on the cover of the popular White pages. He was internationally and locally known as "Mr. Purpose", and for his leadership legacy as a global leader, government advisor, best-selling author, motivational speaker, spiritual teacher and leader, professional consultant, corporate trainer, leadership coach, and media host. His global vision gave birth as Founder, Chairman and President to Bahamas Faith Ministries International, (BFMI), the International Third World Leaders Association (ITWLA) and the International Leadership Training Institute (ILTI.) His legacy will likely live on indefinitely through his televised teachings and prolific writing, continuing to strike a chord of truth and sensibility in all that hear or read his words
A. Bismark Coakley on the Grand Bahama cover was a successful and prolific role-model businessman known to be humble, compassionate and a great humanitarian. Over 25 years he worked tirelessly with the Physically Challenged Children's Committee overseeing fundraising efforts and charitable activities; he was a great proponent of youth programmes, supporting and championing their momentum. He sat on many government and private sector boards and considered himself a servant of the people, receiving many awards for community and nation building activities; he was much admired and garnered love and respect from all who knew him.
Mildred 'Millie' Sands is lovingly remembered as the passionate and knowledgeable proponent of local Bush Medicine and as one of the foremost local practitioners, she believed that nature has a cure for almost any disease or ailment. A regular conductor of workshops to residents and tourists alike, she also collaborated with the Ministry of Tourism in cultural shows at local hotels. Millie was a woman who carved out an unlikely career and found fame along the way, lecturing in a number of cities in the United States and Canada and authoring a book, "Bahamian Bush Medicine through the Eyes of an Expert." –
Reno J Brown, O.B.E. was a product of Grants Town community and a UK university education at Cambridge, and enjoyed a career founded in finance that saw him rise from junior management to several board directorships and, as the BaTelCo chairman, he played an integral role in the privatisation process. His last executive post until retirement in 2012 was as chairman and CEO of the public company Benchmark Bahamas Ltd. He was a lifelong and dedicated Methodist serving in many executive positons and is remembered for his work with The Boys' Brigade and in the early groundwork for the continued success of Baseball.
Sir Albert J Miller, M.B.E.Q.P.M., C.P.M. is perhaps best remembered for his years at the helm of the Grand Bahama Port Authority, as Chairman of BEC, Executive Chairman of BaTelCo and bringing to a close his early career in the Police Force, as the Senior Deputy Commissioner of Police in 1968. Sir Albert has received perhaps more awards of distinction, and held business leadership roles than anyone else in The Bahamas. He worked closely with a succession of Prime Ministers starting with the Rt. Hon. Sir Lynden Pindling, topped Her Majesty the Queen's Honours List in 2002 for dedicated and outstanding contribution to the development of The Bahamas and has many civic honours resulting in a string of letters following his name.
Captain Everette W. Roberts was a man of the sea and earned his living his entire life not far from a boat. But it was the second stage of his life that has made him an historic icon – his service to his fellow seafarers who relied on his un-relenting care and passion to keep 9 essential light houses lit, come rain, shine or hurricane, for all active mariners around the out islands of The Bahamas. Everette and his brothers, Bert and Scottie, and crew members were the vital lifeline to keep the 9 light stations in service; their place in history is well deserved even as our memory of those days fades along with our need for light stations.
Directories are available now until March 1st and are free-of-charge. Customers from New Providence and Grand Bahama can collect their directory at any Post Office or BTC location.