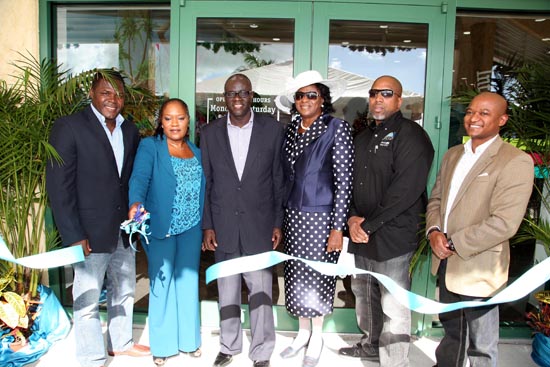 NASSAU, Bahamas – The Bahamas Telecommunications Company (BTC) announced today that the initial phase of the mobile network build-out is now substantially complete, bringing The Bahamas on par with other twenty-first century countries enjoying modern mobile technology. The country-wide roll-out of a brand new 2G and a brand new 4G network follows 18 months of a painstaking programme of upgrades, replacements, modernization and expansion to an existing but restricted system.  BTC will now begin next generation Long Term Evolution, or 4G LTE, a lightning speed wireless communication of high-speed data for mobile phones and data terminals.  The initial phase of the LTE build-out is scheduled for next year.
BTC CEO Geoff Houston said that Phase 1 of an exciting 'big picture'  modernization and expansion for BTC is now complete with the high speed 4G world class network now available throughout The Bahamas.
"We have successfully met our targets for Phase I; the build-out of the new 2G and 4G networks is materially complete and we are in compliance with broad performance key performance indicators or KPIs, as expected," said the CEO. "Our mobile equipment supplier, Ericsson, indicates that, since completing some adjustments to the network over the last few weeks, the BTC network ranks 26th worldwide in terms of performance in relation to the over 100 networks that Ericsson has deployed worldwide. We are very appreciative to our customers who have been exceedingly patient with us as we ripped out and replaced virtually every element of our network.  However," Houston was quick to add, "BTC's work is not done!  We are replacing our voicemail platform early in the new year as we are aware that some customers continue to have issues with that obsolete platform.
"We recently completed the expansion of fifteen, 4G cell sites in New Providence and Grand Bahama to double capacity in those areas.  As one would anticipate on a dynamic network, we still have a few problematic areas that we will continue to work to perfect.  The good news though is that there are very few of those and we are actively working on them.  We feel very confident in saying that the customer experience today is much improved over that of just a few months or even a few weeks ago."
The CEO noted that the inevitable glitches emanating from fast growth can be problematic at times and the network and its users often struggle.
"What we want to do presently is to shift to individual customer issues and very specific geographical areas where residual problems may remain.  Accordingly, we do want customers to contact us directly when they are having call or data issues and to be very detailed with their problem: the more specifics they give us, the better we can resolve issues in a timely and satisfactory manner at both the people and technological levels," he explained.  "We have achieved extremely substantial technology advances in just 18 months, including the 4G roll-out in just one year, all whilst maintaining the old one – teething problems are to be expected, and for the most part, customers do understand that."
Customer Help options are listed at www.btcbahamas/help with online chat, e mail to btc-enterprise@btcbahamas.com, BTC Facebook page, a Twitter account and to 225-5282.
Over the last two weekends BTC has celebrated two, one-year anniversaries – high speed 4G roll-out and the anniversary of the opening of their first flagship store in 2011 at the Mall at Marathon, and the ribbon cutting on Dec 15th of their newest and largest store to date in the South West Plaza.
On Saturday December 6th BTC's first flagship store at the Mall at Marathon, held a double celebration for its one year anniversary and that of high speed 4G. The BTC divas and dudes promo team, dressed as Santa's and Christmas elves, posed for pictures and helped customers find their Christmas wish list presents and stocking stuffers. Little children received presents and treated to candy treats, and BTC promo giveaways, the BTC Wheel of Fortune, face painting, The Bahamas All Stars Marching Band and a DJ
On Saturday December 15th, BTC staged another fun, twin celebration for the opening of their largest retail store to date and the one year anniversary of 4G.  The new shop, likely the largest of its type in the Caribbean, is in the new South West Plaza on Carmichael Road. The Honourable Khaalis Rolle, MP Pinewood, Minster of State for Investments, Office of The Prime Minister brought remarks.
EYE ON BTC – Abaco Store Opening & Honoring BTC retirees!