Murder count climbs beyond 90!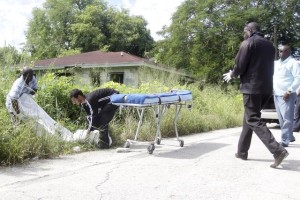 Nassau, Bahamas — Breaking News coming into Bahamas Press confirms we have another deadly murder in the capital this time at a breakfast stand.
Reports reaching our desk confirms the son of known drug lord Lopie Lopez, Jamaal Huyler, a BTC employee, was gunned down early this morning as he attempted to order breakfast a popular breakfast stand just behind the Nassau Guardian.
BP was live on the scene only second after our agents were attempted to make an order, but quickly Haul A** in the opposite direction after we heard gunshots coming from the area.
Huyler was a decent BTC employee. He was a hard, loyal and dedicated worker. He was not involved with anything illicit – but connections these days to dangerous people could result in death. We pray this morning for his soul that the Great Master of the Universe receives it!
May He rest in peace!