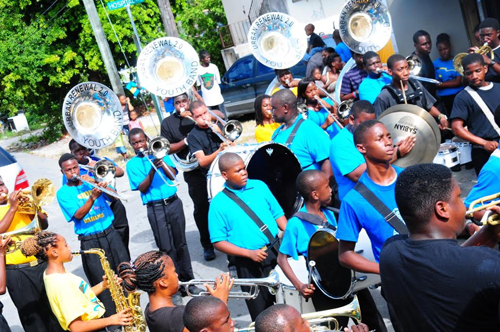 Nassau, Bahamas – Today's 600-strong Urban Renewal Marching Band is thirteen-years old, the age of many of its members who thrill us with their stylized performance and diverse musical inventory. Originally an 'add-on' to Prime Minister Perry Christie's Urban Renewal initiative, its success has given it a life of its own, and bettered those of many in the band.
The Bahamas Telecommunications Company (BTC) has contributed over the years in the way of musical instruments and financial aid to assist the bands expansion as more and more youngsters apply. This year BTC's sponsorship of the Royal Bahamas Police Force (RBPF) Summer Camp included the Urban Renewal Marching Band Camp over a six-week period. Additionally, the BTC Urban Renewal Basketball League at the Cynthia 'Mother' Pratt Park was the first sponsored league in the inner city programme. BTC supplied sporting equipment and uniforms and also several new musical instruments. To mark the country's Independence, BTC made a further contribution providing the opportunity for more children to expand their knowledge-base with correct musical instruction and to participate in band performances.
BTC CEO Leon Williams said that a musical education is life enriching. "I would have joined a marching band as a kid if I'd had the chance," said Mr. Williams. I've seen the good effects and transforming outcomes of children in the Urban Renewal Marching Band. The organisation is run well and the dedicated management by Police Officers and volunteers is reaping tremendous benefits for the children. Only through donations to purchase more instruments can more children join. BTC is major financial contributor to community betterment and we will continue to support this very productive life-enhancing programme."
The re-organised Urban Renewal 2.0 Band was reformulated in June 2012 under the supervision of Inspector Theodore Campbell. It combines students from the Bain Town, Centreville, Englerston East/West, Fort Charlotte, Fox Hill, Kemp Road, Nassau Village, and Pinewood communities. Members range in ages from seven to eighteen, and play an assortment of instruments including trumpets, flutes, trombones, alto and tenor saxophones, sousaphones, clarinets, snare and tenor drums, hand bells and steel pans.
Police Inspector Theodore Campbell said that teaching kids to play musical instruments is just a part of the objective, a fundamental part of an equation, with the sum total being a wiser, more respectful, member of the community.
"Our objectives for our band members is to teach them fear and respect of God, respect for country, and respect for others and self," said the Inspector. "We feel that a person's understanding and acceptance of these directives directly relate to crime prevention. Additionally, three year ago, to promote working across community boundaries, we amalgamated all district bands into one lone Marching Band to promote working in harmony and to dissipate the 'my turf, your turf,' separation idea. The kids also learn that they need to develop discipline to play a musical instrument, discipline to always turn up for band practice and stay the course. We encourage and motivate the kids to do better in school and reward those improving their GPA to a 2.5. We build their desire to learn, we give them a reason to work hard in school and for many, this is the first time they have been motivated to do so. We see results, it is encouraging. We also teach conflict resolution, personal problem solving and life and social skills."
The Inspector added that the band has afforded students that excel and bring up their GPA the opportunity to travel nationally and internationally to participate in leadership and musical workshops as well as to showcase their talents in marching and concert performances. "These individuals have also been given the opportunity to sit the internationally recognized Royal School of Music Exams which is based in England. Additionally, Primary, Junior and Senior High School Grade Point Average (GPA) have improved for a number of the students."