IAAF, CARIFTA Swim and Track & Field to Benefit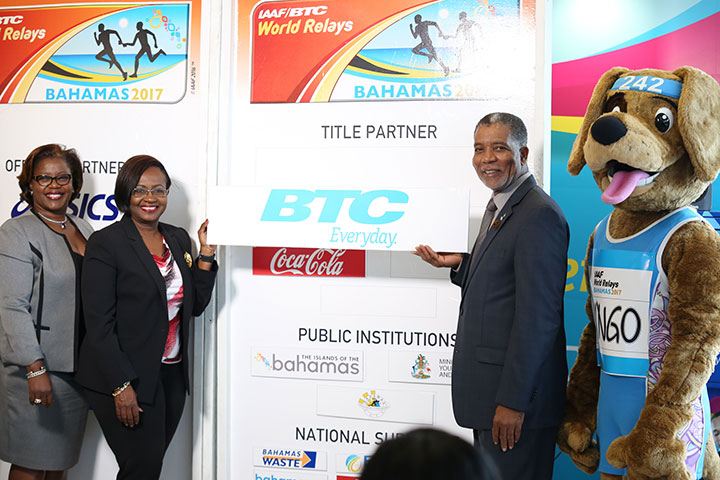 Nassau, The Bahamas – The Bahamas Telecommunications Company (BTC) today announced their title sponsorship of three major sporting events. BTC will be the title partner for the IAAF World Relays, the CARIFTA Track & Field Championships scheduled for Curacao, and the CARIFTA Swimming Championships scheduled which will take place on our shores.
The sponsorship amounts are as follows:
· IAAF World Relays $275,000.00
· CARIFTA Swimming $90,000.00
· CARIFTA Track & Field $20,000.00
Algernon Cargill, President of the Bahamas Swimming Federation said they were appreciative of the sponsorship. Cargill noted, "BTC stepped forward to provide long term support for the Bahamas Swimming Federation at a time when we truly needed it. Through their generosity, we can focus on CARIFTA preparation and not so much on the fundraising. Our athletes and parents are appreciate of this generosity and encourage more corporate citizens to step forward and support sports development in The Bahamas."
Rosemunde Carey, President of the Local Organizing Committee for the IAAF World Relays stated that, "The success of any venture of this magnitude is the partnership of good corporate citizenry. We will take this opportunity with your partnership, to promote not only our athletes and country, but BTC as a valuable corporate citizen. Your enthusiastic support has added vibrancy to our unique branding of the IWR that no other country has ever hosted."
BTC CEO Mr. Leon Williams said that, "This is another "blue letter day" in the history of BTC. Today, we are again stepping up to the plate, investing almost $400,000 in the youth of this nation to ensure that their limitless potential is met. By investing in the community, we are investing in a better future for the entire country."
All BTC customers across the country will be able to view coverage of the CARIFTA Swim and Track and Field Events live either using Flow to Go on their mobile devices, or on FLOW TV. "We know that everyone will not be able to travel to see these games, and with that in mind, BTC will have you covered, just make sure you've downloaded Flow to Go and you will be able to view the games in real time wherever you are," Mr. Williams ended.
As a part of its sponsorship, BTC will have naming rights for the upcoming relays and the event will be called the IAAF/BTC World Relays. BTC Team Bahamas will also represent the country at the CARIFTA Track and Field games which will be held in Curacao. This year, The Bahamas will be the host for CARIFTA swimming.