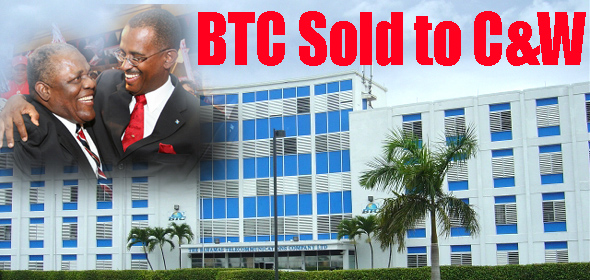 Nassau, Bahamas — Negotiators with intimate knowledge of the "deal" tell us that the London based telephone company, Cable and Wireless, now owns BTC. Sources tells us that memorandum was signed in December is now agreed upon following a private meeting that no one, not even some MPs in the government, knew about.
BP was reliably informed following the event, the leader of the country left New Providence for Abaco to go fishing. WHAT WICKEDNESS!
Bahamas Press finds this a dastard act of treason by the Ingraham administration, a violation of the Trust of The Bahamian People, and an absolute abandonment of the core principals of transparency and accountability in public life.
We grossly detest the decision by the government to proceed with the sale of BTC amid huge disapproval by the Bahamian people of its decision to do so.
Amid clear facts of Corruption, Insider Trading, LIES and SLEAZE by board members including BTC Chairman, Julian Francis, Prime Minister Hubert Ingraham has ignored all of the concerns exposed for all to see on the sale of the profitable corporation in a move to satisfy his foreign partners.
The Parliament, which has exclusive authority to transfer the ownership of such public assets,  is yet to be informed;  MPs, including those representing the government side,  have confirm they have yet to see the original Memorandum of Understanding signed on December 2nd, 2010, between the Ingraham Government and Cable and Wireless. More Importantly, the Ingraham Administration,  in its dictatorial style,  has refused to circulate the agreement as promised.
Now we are told, despite the transfer of the ownership having been completed, come Monday, AFTER THE FACT, Ingraham shall table the MOU for Parliamentary debate.
The move however could stir a major uprising in the Bahamas, unseen since the last general strike, which could echo the calls for the Ingraham administration to leave office.
Bahamas Press finds this BACKSIDE RAPE of the public land and assets UNACCEPTABLE and DESPICABLE,  to say the least.
Those who are elected to office are expected to guard the sacred entities entrusted to them by the Bahamian people and should not be seen NAKEDLY ABDICATING POWER INTO FOREIGN HANDS!

We detest this TREASONOUS ACTION BY THE INGRAHAM GOVERNMENT to sell BTC to Cable and Wireless behind the backdoor and we warn all and sundry that is partaking in this action to cease and desist immediately! We call on the entire Cabinet of Hubert Ingraham to resign IMMEDIATELY and FORCE AN EARLY ELECTION WHEN PARLIAMENT CONVENES MONDAY MORNING!
Pugna pro iure Populi  (LATIN: fighting for the rights of the people!)
WE NEED CHANGE!