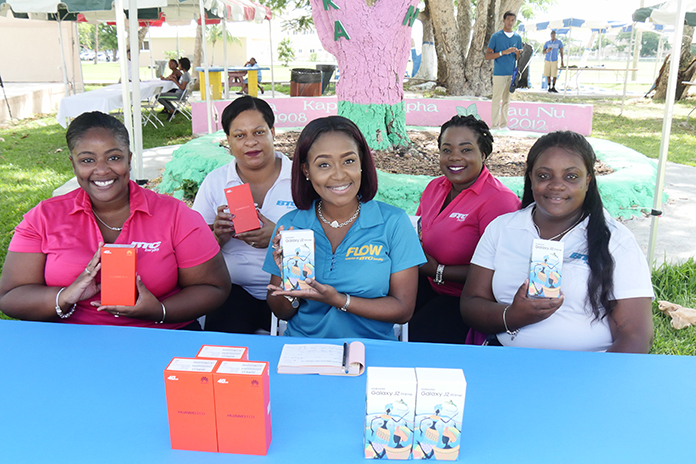 Nassau, The Bahamas. August 17th, 2017. BTC joined hands with The University of The Bahamas as it kicked off its annual new student orientation. BTC has partnered with the University for years on this initiative.
Vice President for Mobile Alphanique Duncombe said, "We are proud to be here with the University as they host their freshman week activities. Over a thousand new students will now have the opportunity to continue to unleash their limitless potential and we look forward to what the future has to offer. BTC understands that data is very important for college students. We have the largest LTE network and we want to make sure that The UB students are getting the best experience possible, and we want to ensure that they're on BTC's network. Not just by having a new phone, but also ensuring that they have an LTE sim to ensure they're getting the best and fastest speeds. Additionally, when students ported back to BTC they received a new Samsung device."
BTC set up a mobile store in the heart of the University's Independence Park, offering affordably priced products and services. BTC surprised the crowd with performances from their endorsed talents Sawyer Boy, Mdeez, and Sleepy Lexx. Returning student Jade Colebrooke said, "I thoroughly enjoyed BTC's entertainment. The vibe and the music was just right. I love to see Bahamians embracing and celebrating Bahamian talent. It's the epitome of unity."
Freshman Jonathan Burrows said "I'm really enjoying the festivities. The music is great, and I found a few clubs that I'd be interested in joining this semester!" While at UB, Burrows plans to study Architecture. He also took a special interest in both the Basketball and Chess club.
BTC continues to be an advocate for youth development. The country's premier corporate citizen anticipates a productive year while partnering with the country's newly chartered university.