CEO Leon Williams announces target dates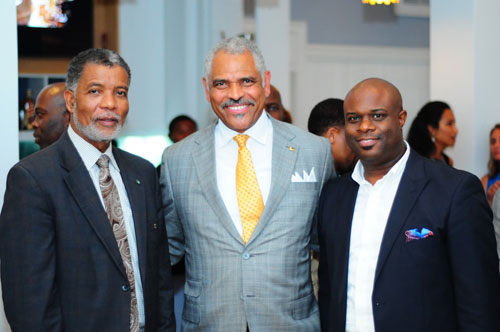 BTC CEO set to speed up progress for Bahamians at BTC!
By Jerome Sawyer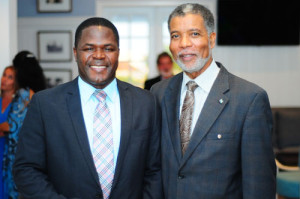 Nassau, Bahamas – BTC CEO Leon Williams has announced that the roll out of business enterprise solution Multi-Protocol Label Switching (MPLS) and Internet Protocol Television (IPTV), will be mid-2015.
The announcement was made at the recent business meet and greet Chamber of Commerce event where Mr. Williams addressed executive attendees. BTC is a member of the Chamber and one of the sponsors of the event where Carnival CEO Arnold Donald was the visiting guest speaker.
In his remarks, Mr. Williams gave Next Generation Network (NGN) progress updates.
"We never stop evolving as a company or in our technology. This year we have made momentous upgrades to the network; capital expenditure was $26 million for mobile, $1.6 million for MPLS, $1.35 million approved to date for Broadband and $65 million for the Family Islands. So $68 million total capex on the network and to roll out significant services that benefit businesses, most notably MPLS, which provides high speed, client dedicated large bandwidth, and scalability to suit."
BTC Enterprise Team developed their MPLS business solution offering, to answer a call from business owners to deliver improved communication options with improved cost and time efficiencies, easy and flexible capacity, and better security, resilience and reliability. MPLS converges voice, video and data across a common platform that delivers improved performance while ensuring that even remote users on that business' private network are able to access centralised applications and business tools.
"Between now and March we aim to get into the business of television and will launch our IPTV network, so stay tuned it is coming soon."
Mr. Williams recently stated when opening the new BTC retail store in Long Island that IPTV testing would take place initially in pre-selected test sites in some of the Family Islands followed by a launch on New Providence mid-2015. BTC would go head to head in competition with Cable Bahamas.
Edison Sumner, CEO of the Chamber of Commerce, said that BTC was a perfect partner for the event.
"BTC has always been a strong partner of the Chamber of Commerce; they are one of our largest members and the company has always been very supportive of the objectives of the Chamber. So when we thought about who our important business related partners were going to be, BTC was our first thought."
The visiting guest for the evening was Arnold Donald, CEO of Carnival Corporation. The business mogul, touted as one of the 50 most powerful black executives in America by Fortune Magazine, was invited by the Chamber of Commerce to speak at the mix-and-mingle event held for executive level businesspersons and entrepreneurs.
"We wanted to have a CEO level mix-an-mingle that would bring together the movers and shakers of Bahamian business," said Mr. Sumner. "We chose Mr. Donald because he could inspire other CEOs."
Mr. Donald emphasized the importance of Carnival's relationship and history with the Bahamas, both for the company and for tourism in the country.
"The Bahamas is absolutely one of the most important countries in the world to our corporation," said Mr. Donald. "Six of our nine lines frequent the Bahamas, and we account for 65% of cruise visitors to Nassau and 90% of cruisers to Freeport. We feel welcomed here and want our guests to feel the same. We see The Bahamas as our partner and feel between us we have one common goal, to exceed our guests' expectations in all we do."