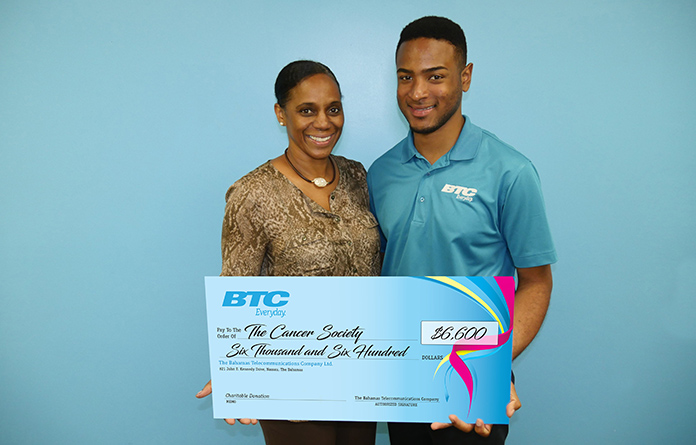 Nassau, The Bahamas. May 8, 2017. BTC will be the Platinum Sponsor of the 16th annual Cancer Society Ball. This year's theme is "Celebrate" and the company has donated $6,600 to the cause.
CEO, Leon Williams said, "We have a special affinity with the Cancer Society and we've supported their drive for greater awareness for many years. This year, we will celebrate with a number of survivors and families. I'm proud of the work the Cancer Society has been doing, and we wish them well with this weekend's ball."
The Cancer Society Ball's Co-Chairperson Lisa Bellot said, "We're pleased to have BTC as a partner. They've been supporting us for many years. So, it's always great to have them come along, and be a part of this most worthy cause because everyone has been touched by cancer in some way or another."
The ball is set to take place Saturday May 20th at the Melia Resort under the theme "Celebrate." The society will honor Mrs. Iris Pinder and Dr. K. Larry Carroll. Mrs. Iris Pinder will receive the Susan Andrews Award for honorable service, while Dr. K. Larry Carroll is set to receive the Lifetime Achievement Award.
From the podium to the dancefloor; The Cancer Society also plans to create a "dancing, fun party atmosphere". Bellot said, "We're having a variety of entertainers this year. We're going to have BTC endorsed talents Dyson Knight and Wendy Lewis. Other artists will include Geno D, Bunji Garlin, and the Police Force Pop Band."
The Cancer Society expects over 400 guests to attend the ball this year. Tickets are still available for purchase at The Cancer Society.
Bellot added, "I'd like people to come and celebrate with people that are still fighting cancer. We want people to come in and understand that when they participate in these things, they're actually helping. Many people may not be aware that The Cancer Society Caring Centre, houses a number of patients that may not have a place to stay, while getting treatment free of charge, especially Family Islanders."
BTC supports all of the branches of the Cancer Society throughout the Family Islands. The Long Island branch held their annual ball just a few months ago. BTC also supports the Sister/Sister Breast Cancer Support Group. Over the last two years, the company has provided free mammograms for customers in recognition of Breast Cancer Awareness month in October.