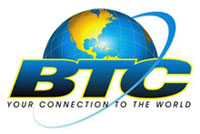 Nassau, Bahamas – The Management of The Bahamas Telecommunications Company Ltd (BTC) is condemning in the strongest terms the recent comments by Bahamas Communications and Public Officers Union (BCPOU) leader, Bernard Evans, in respect to both alleged plans to lay off staff, and in the erroneous and reckless comments regarding management compensation.
"Unfortunately, we are finding ourselves having to take time to address ludicrous and downright false assertions being made by Mr. Evans, who we are sure knows better. BTC Management and Staff have been working hard on the transformation of the company – addressing the network issues and seeking to improve customer care. And while we are hard at work trying to deliver better service to our customers, we have leadership of our non-management union engaged in what can best be described as mischievous efforts to undermine team morale and to distract from the very important tasks of making things better for our BTC customers and our BTC team members", noted Geoff Houston, CEO of BTC.
"There is absolutely no truth to the contention that BTC is planning mass layoffs. None. Zero. I have spoken at BTC team meetings around the country just a few short months ago to tell staff in person that while BTC must become more efficient in an increasingly competitive market, we are working hard to improve and build our business so that team members can have new, more exciting opportunities within BTC."
"Also, while BTC seeks to avoid discussion on the issue of the compensation of individuals within the company because we appreciate how important it is for confidentiality purposes, we are compelled to point out that the allegations made by Mr. Evans regarding the half million dollar average compensation for executives of BTC are completely absurd and wholly false", continued Houston.
BTC management notes that for the company and its team members to succeed, all stakeholders have to be aligned and work in good faith to set the foundation for the long term success of BTC. The company is hopeful that all BTC stakeholders can continue to work in a spirit of cooperation to the benefit of the company and its hundreds of thousands of customers.
The Bahamas Telecommunications Company (BTC) is the leading telecoms operator in The Bahamas. BTC is jointly owned by Cable & Wireless Communications (51%) and the Government of The Bahamas (49%). Cable & Wireless Communications has both management and Board control.