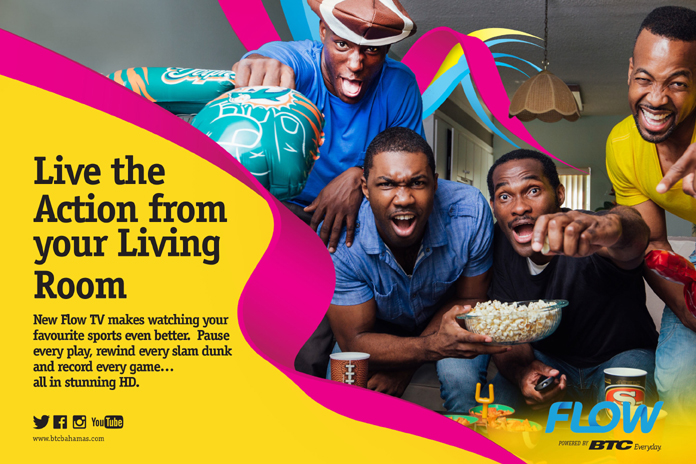 Almost one month after BTC officially launched its FLOW TV on the island of Bimini, rave reviews are pouring in about its crisp clear picture and wide selection of channels and programs from many residents of that island. Those reasons coupled with a lack of options from competitors, like Cable Bahamas, a lack of access to local programming and unreliable service are amongst the reasons customers say they were leaving their current provider and making the switch to BTC's FLOW TV.
Encouraging testimonials have come from religious leaders, community activists, retirees, business persons, sporting buffs and educational officials. They are all in agreement that FLOW TV is the ingredient that was missing from Bimini's spiritual experience, social life and family entertainment. A void has been filled by BTC's FLOW TV. Prior to FLOW TV, Family Island customers like those in Bimini were limited to satellite services or basic cable. Now FLOW TV powered by BTC is revolutionizing the way that customers experience TV.
Over 300 customers, including those who were selected to test the service during its roll-out have already signed up to receive FLOW TV, which offers up to 170 IPTV channels.
FLOW TV's diverse package options and the ability to customize packages through "a Flow on your own" have also spurred creative use of the services as an educational support tool which may change how lessons are taught at the Louise McDonald High School in Bimini. The school has received a three-month free trial of BTC FLOW TV and four classrooms have been upgraded by BTC for future development.
According to Principal at the high school Wesley Rolle, the children in Bimini have embraced the latest technology. He said they were interested in BTC's educational package with the history and science channels. They are now using channels like Animal Planet, Discovery Channel and National Geographic to support the school's curriculum. Rolle was also fascinated by the cloud recording feature which he described as "particularly helpful" because Teachers can record shows and episodes as they relate to the school's curriculum and save them for later as part of the revision process. The school's Principal is also encouraging staff to start a library of educational content, thanks to BTC's FLOW TV.
From Bimini, BTC's revolution of the television industry continues on the island of Inagua, the second in the chain of islands to launch the company's newest product FLOW TV. According to BTC's Senior Product Development Associate Colette Godfrey, who is overseeing the roll-out of FLOW TV in the Family Islands, the response to FLOW TV in Inagua has been very positive. To date, some 70 customers have signed up for the much anticipated service. Ms. Godfrey stated emphatically that while testing was being carried out, the response was overwhelming with "the product positive performance reviews serving as their own advertisement."
BTC's FLOW TV was a welcomed change for Inagua native Josett Pinder, who was among those selected to test the service in her neighborhood. She is now an enthusiastic customer. "Where I live, we didn't have Cable TV at all," she said. "For ten years I had nothing but DVDs so I am really pleased not just to have the service, but that the audio and video are so clear. I have been really happy exploring the features and all of the channels. I trust BTC, they came through for us often and they have again. We are pleased and excited to be one of the first islands to have FLOW TV."
Another resident of Inagua, Deborah Farquharson expressed her pleasure and excitement with the wide selection of channels which also captured the interest of her family to FLOW TV. "My husband likes sports. I am into religion, and my granddaughter who lives with us loves Disney and the Cartoon channels. BTC gives us a much larger variety than we had previously,' she said.
Testing of BTC's FLOW TV is now in progress with 68 testers in Cat Island, the next destination for the launch of BTC's newest product, which will deliver television service to areas that never had it, The FLOW TV caravan will also move through Exuma where BTC expects to have its first customers very soon, especially to underserved areas like Barretarre, Rolleville and Williamstown, all settlements which have been virtually ignored by the Cable television provider. Testing is also ongoing in Long Island and parts of Andros.
BTC's Chief Executive Officer Mr. Williams is adamant that BTC will provide a "Connected Bahamas" offering the same quality of products and services on each island, noting that FLOW TV powered by BTC will continue to revolutionize the way that customers experience television throughout the islands of The Bahamas.