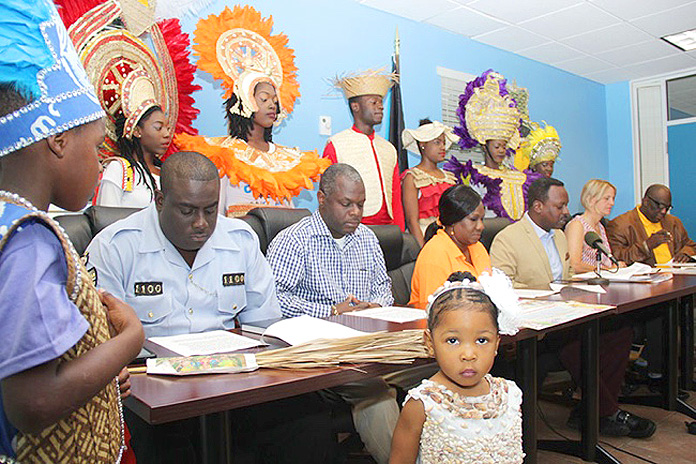 NASSAU, The Bahamas – Sporting the beauty of straw work as costume, young people from tots to teens on Thursday showed off their 'Youth Culture Fest' fiesta attire at the Ministry of Youth, Sports and Culture to the announcement from the Minister that "this year's Youth Culture Fest will be staged at Arawak Cay Heritage Site on April 9." The costumes exhibited different styles, colours, and materials of plait that make straw work so distinctive.
Youth Culture Fest will comprise 25 groups, and the theme this year will be the 'Road to Majority Rule.'
The press conference was held in conjunction with the Bahamas National Festival Commission.
Minister Dr. Daniel Johnson said: "We encourage the entire country to come out and support the youth of the nation as they engage in clean, wholesome, positive and educational activities in the form of our second annual Youth Culture Fest."
The Fest's parade will begin promptly at 3:00 p.m. from the eastern side of the Western Esplanade, and travel west on the seafront to the Heritage Site where a concert featuring the participants, school children, and youth community groups will follow immediately after.
The Road to Majority Rule theme comprises an element in the lead-up of activities that will commemorate the 50th Anniversary of Majority Rule in January 2017. The children will participate in songs, poetry, dances and monologues related to the historic event.