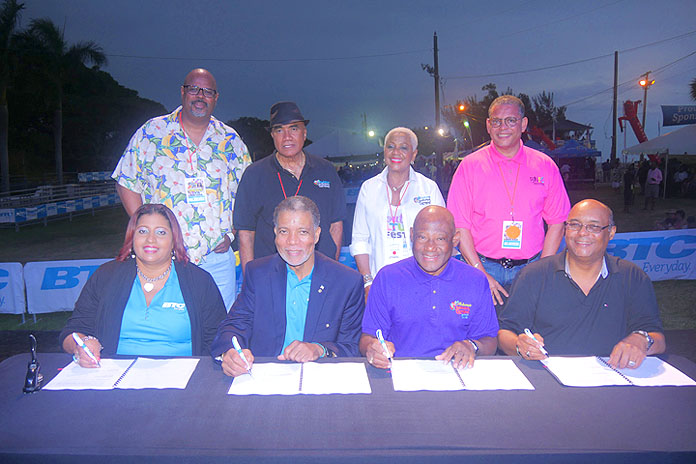 The Bahamas Telecommunications Company (BTC) has once again signed on to be a major sponsor of Bahamas Junkanoo Carnival, making it official during the opening ceremony of the Grand Bahama Carnival Kickoff over the weekend.
"BTC is indeed proud to continue to support Bahamas Junkanoo Carnival to the tune of $1 million. Last year for the first time The Bahamas hosted its first Junkanoo Carnival event and BTC immediately jumped on board as a sponsor. The event showed the country's commitment to diversify its tourism product and encouraging entrepreneurship,"said BTC's Chief Executive Officer Leon Williams.
Having served as a major sponsor for the inaugural Junkanoo Carnival festival, BTC agreed to continue its partnership with the event into the second year. The $1 million sponsorship for the 2016 festival includes a commitment to use BTC's newest commercial product, FLOW TV to broadcast Bahamas Junkanoo Carnival across the Caribbean and to the world. Over the weekend, BTC streamed the Grand Bahama Carnival Kickoff live.
The company's reach extends to eleven Caribbean countries: Barbados, Trinidad & Tobago, Jamaica, St Lucia, St Kitts and Nevis, St Vincent and the Grenadines, Montserrat, Grenada, Curacao, Cayman and Dominica. The goal is to attract more visitors to next year's festival.
Bahamas National Festival Commission (BNFC) Chairman Paul Major said the agreement is tangible proof of BTC's commitment to The Bahamas.
"We are building a brand – a festival experience – that Bahamians can be proud of. BTC has been a central part of that. BTC was onboard from the beginning of Bahamas Junkanoo Carnival and believed in us. Securing major investments by sponsors is a core objective for the festival and BTC has stepped up big time," Major said, also noting that Kalik is the Official Beer Sponsor for Bahamas Junkanoo Carnival.
"We are partnering with the Ministry of Tourism's research department and The College of The Bahamas to do more data collection at this year's festival. That means that we can demonstratemeasurablevalue delivered by Bahamas Junkanoo Carnival. This information will allow our sponsors to be backed up by quantifiable data."