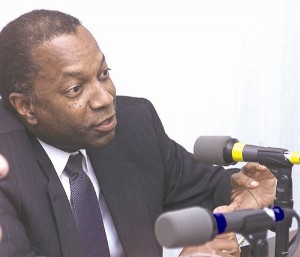 PLP PRESS STATEMENT:
In the PLP's Press Statement dated January 17th 2011 it disclosed:

Julian Francis has admitted that he is Chairman and a Shareholder of Mango. Julian Francis also did not deny that Mango had not participated in the bidding process, as is required by the FNM declared policy.
Julian Francis has been caught in a blatant conflict of interest, offenses may have been committed under the Prevention of Bribery Act and Julian Francis has violated the FNM own Code of Ethics as is outlined in their seven (7) principles of public life on page 36 of 2007 FNM Manifesto (below).
Additionally, our sources have disclosed that Julian Francis has a business connection with Reuben Rahming, who heads the Public Transportation Association of The Bahamas (PTAB) and also runs a complementary advertising company called Bahamas Fleet Management Solutions (BFMS), which handles all of the BTC mobile ads on buses under contract and also have BTC listed as a client on their website.  http://bfms-ltd.com/index.php/clients/ (Reuben Rahming has since denied a business connection with Julian Francis)
PTAB also is the bus company who is linked with the mango card initiative. PTAB and BFMS we are advised have the monopoly with BTC's BUS ads and related business. Questions that Minister Tommy Turnquest has refused to answer: Was it the Acting President or the Executive Chairman who gave the instructions to BTC's Marketing Vice President to issue an exclusive contract to Bahamas Fleet Management Solutions? How much monies have been paid by BTC to Bahamas Fleet Management Solutions from the commencement of the agreement to December 31st 2010?
The PLP supports the view of Editor of the Nassau Guardian which stated in its editorial on Friday 14th January, 2011, "…the public has a right to expect the same level of corporate governance that is applied to and required from the private sector should also obtain when it comes to managing the affairs of the Bahamian people".
We also agree that the best course for Julian Francis is that he should resign from BTC.
Since Julian Francis cannot restrain himself from intermingling his personal affairs with that of BTC, the PLP calls for Julian Francis to be fired immediately.
This latest episode by Julian Francis is a continued pattern of corruption, breaches of the Code of Ethics, and possible breaches of the Prevention of Bribery Act by senior FNM political appointees.
Our sources deep with the Company advised that BTC is now conducting an internal investigation on Bahamas Fleet Management Ltd which BTC has been doing business with from 2007, and has spent some $420,000.00 plus with this company. Will the Minister of National Security Tommy Turnquest who has the responsibility for BTC confirm or deny the expenditure of almost a half million dollars with Bahamas Fleet Management Solutions Ltd and who when brought them to BTC table?