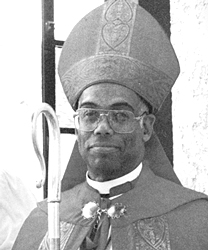 Nassau, Bahamas –– The first Bahamian Anglican Bishop of the Bahamas and the Turks and Caicos Island, Rt. Rev.d Michael Hartley Eldon C.M.G., M.A., has passed away at the Princess Margaret Hospital early this morning.
He was 79 years old.
Bishop Eldon served as Anglican Bishop in the last third of the 20th century.
Born on 8th August 1931 he was educated at St Catharine's College, Cambridge and was was ordained to the sacred priesthood in 1955. After curacies in Nassau he spent nine years on Grand Bahama, rising in time to be Archdeacon of the island.
On 24th June 1971 Michael Hartley Eldon was consecrated Suffragan Bishop with the title Bishop of New Providence.
Less than a year later on April 20, 1972 the Diocesan Synod unanimously elected Michael H. Eldon, Bishop Suffragan as 11th Bishop of Nassau and the Bahamas including the Turks and Caicos Islands.
He demitted office as Bishop of the Bahamas Including the Turks and Caicos Island in 1996.
Bahamas Press sends our heartfelt condolences to his family, namely his sister Dr. Keva Bethel, the Anglican Communion and the wider Christian community.
May He Rest In Peace.