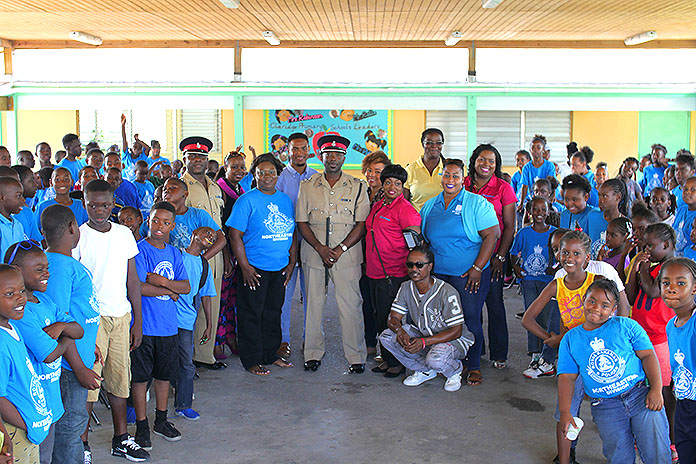 Nassau, The Bahamas. July 13, 2017. BTC is the official sponsor for the 2017 Royal Bahamas Police Force Summer Youth Camp. The organization is hosting camps throughout New Providence and the Family Islands.
Over the past few weeks, BTC has made an effort to provide campers with an unforgettable experience. The BTC iVolunteer team has made special visits to Claridge Road Primary School, Garvin Tynes Primary School, and Harbour Island All Age Schools. Not only has the BTC iVolunteer assisted with the distribution of lunch, but BTC endorsed talent Christian Massive has also made a special appearance at the Claridge Road Primary School location. Christian Massive spoke to the campers about the importance of making wise decisions, and placing God first in their lives.
"The Summer Youth Camp is a wholesome initiative led by the country's Police Force. It provides a safe environment for children during the summer period." said Indira Collie, Public Relations Manager at BTC.
During the Garvin Tynes location visit, BTC introduced the campers to its newly launched FLOW Kids app, which provides child-friendly entertainment such as TV shows, games, and e-books. "The Police Summer Youth Camp was the perfect opportunity to introduce our new FLOW Kids app. The campers were so intrigued by all of the features and content – I feel like this app is a huge hit for our kids," Collie continued.
The Harbour Island camp has also planned an array of fun activities for its campers like baking tutorials, excursions to the famous Swimming Pigs, and snorkeling. "The Police Camp on Harbour Island is very expensive to run. Without corporate citizens like BTC, we would not be able to do it, so I would like to personally thank BTC and our other corporate sponsors who have partnered with us year after year to make this camp a success," said Sgt. Tokenya Taylor, Camp Facilitator at Harbour Island Police Summer Youth Camp.
Taylor has expressed that BTC's communicative presence has been a major cornerstone in maintaining a connection with parents and the rest of the community at large to ensure the safety of the campers. "Parents call me when it's time to pick up their children to confirm our whereabouts and just in case we have an emergency my mobile phone is always working," said Taylor.
BTC plans will continue to visit other camp centers throughout New Providence and in the Family Islands providing the camps with great entertainment and treats.