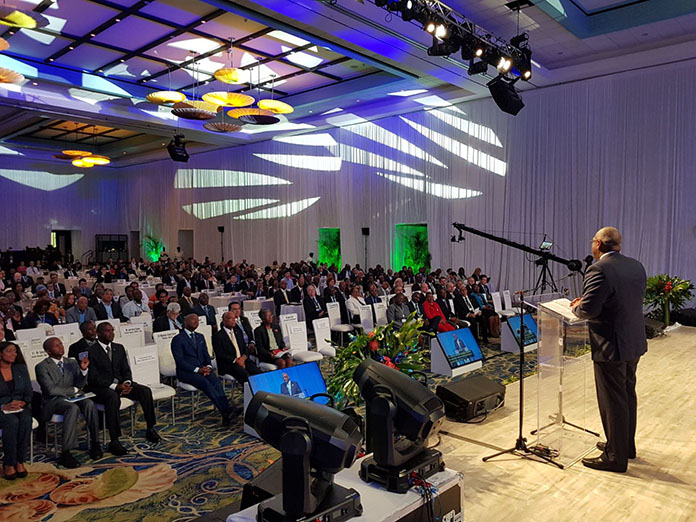 NASSAU, The Bahamas – The Government of The Bahamas has plans to establish a unified busing system – fueled by Smart Technology — as part of an overarching plan to improve the transportation network within The Bahamas, Prime Minister, Dr. the Hon. Hubert A. Minnis said Wednesday.
"The best use of technology must be driven by values and principles that will guide our policies," Prime Minister Minnis said. "These values must include a commitment to social equity, social mobility and the advancement of the poor and less fortunate."
Government officials say urban and community revitalization will be the key benefit from the application of Smart Technology to improve the transportation network.
Technology will be used to track the movement of buses "for the better management of our public transportation resources and to enable riders to better schedule their movement," Prime Minister Minnis said.
The plan further calls for the modernization of the country's traffic control systems so that traffic signals (lights) are connected with sensors to better monitor and control traffic flows within a coordinated network.
Prime Minister Minnis said mobile operators have already begun to deploy WIFI Services on buses.
"We are working to have widespread access to WIFI services in the parks and public spaces within the inner-city in New Providence with a view to free WIFI in certain communities," Prime Minister Minnis added.
Addressing the Opening Session of the International Telecommunications Union's Global Symposium of Regulators (GSR) at Atlantis, Paradise Island, Prime Minister Minnis outlined a series of strategies and initiatives that his government will undertake that will lead to the modernization of The Bahamas in areas ranging from education, to transportation, national security, health and urban development.
"Urban and community revitalization will greatly benefit from the application of Smart Technology," Prime Minister Minnis said. "This includes improvements in our transportation systems."
Prime Minister Minnis also announced that his government is seeking to pilot smart metres to enable prepaid electric metering in various communities so that consumers can better monitor their electricity usage and top up when needed "in a similar way as they manage their cell phones."
"We also wish to deploy technology to help citizens improve their communities such as reporting the location of potholes or other matters to the relevant government agencies through their Smart Phones," Prime Minister Minnis added.