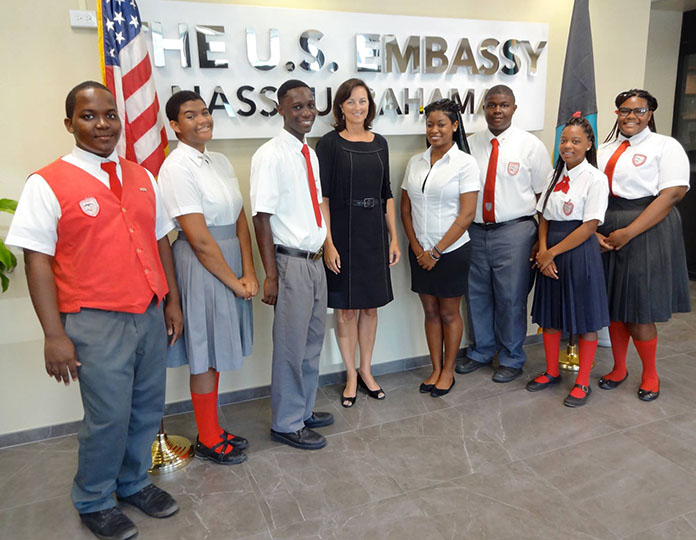 Six students from L.N. Coakley High School in Exuma have been selected by U.S. Embassy Nassau to participate in the prestigious Youth Ambassadors Leadership Program sponsored by the U.S. Department of State through U.S. Embassy Nassau and implemented by World Learning.
World Learning is a global not-for-profit organization with educational and international development operations in more than 75 countries. It fosters global citizen-activism by connecting over 100,000 participants.
The Youth Ambassadors Program brings together talented Caribbean students who are committed to improving the communities and able to represent their countries as Citizen Diplomats.
The Youth Ambassadors Program with the Caribbean will be held August 7-28, in the United States. The participants include Clive Ferguson, Kareem Minnis, Sky Cartwright, Tranique Brown, Wynter Curtis and Waydero Rolle. Ms. Latrell Bethel will accompany the group as the adult chaperone.
From July 12-13 the Youth Ambassadors visited Nassau as part of their pre-departure orientation. The visit included a courtesy call with U.S. Charge d'Affaires Lisa Johnson at the US Embassy, participation in a community service project with Bahamas National Trust and a welcome dinner where they got an opportunity to meet with U.S. State Department alumnus and Parliamentary Secretary in the Ministry of Tourism Travis Robinson who gave a presentation on "What It Means to be a Youth Ambassador." The students also learned about higher education opportunities and the services offered by the State Department's EducationUSA program.
The Youth Ambassadors Program encompasses three segments in the United States; First, a visit to Brattleboro, Vermont for a week-long leadership camp, then the will be divided into groups and travel to Kansas, Missouri; Tulsa, Oklahoma or Seattle Washington for a ten-day home stay program. While there, they will reside with a designated American family for a cross-cultural exchange. The program will conclude in Washington, DC with a week-long civic education and workshop. Upon their return home to Exuma, the Youth Ambassadors implement a community service project based on their leadership experiences in the United States.
The Youth Ambassadors program started in Brazil fifteen years ago and now includes 26 countries from throughout the Western Hemisphere. This year's program will include forty-two participants from The Bahamas, Guyana, Jamaica, Suriname, Trinidad and Tobago, Barbados, Antigua and Barbuda, Saint Kitts and Nevis, St. Vincent and the Grenadines, Dominica and Grenada.