Pledges $50,000 in Support of Bahamas Athletics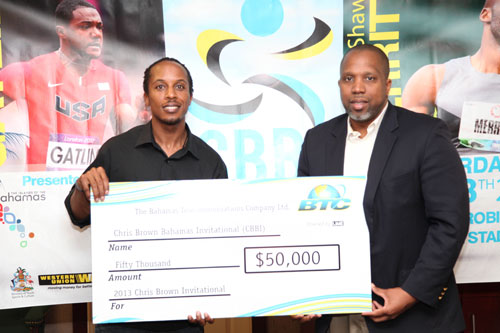 Nassau, Bahamas –  The Bahamas Telecommunications Company (BTC) is a Gold Sponsor for the first annual Chris Brown Bahamas Invitational pledging $50,000 in support of the event to be held at the Thomas A. Robinson Stadium on April 13th.
The Invitational, which is headed by Olympic gold medal winner, Chris Brown, will bring Golden Knights Michael Mathieu, Demetrius Pinder, Ramon Miller together with Trevor Barry and a number of world class athletes to the Bahamas, including internationally renowned track stars Aleen Bailey, Justin Gatlin, Veronica Campbell-Brown, Kirami James, Derrick Atkins, and Kellie Wells, to name a few.  This will be the first time that many of the athletes will be competing at an outdoor track event in the Caribbean.
BTC is committed to supporting the dreams of young Bahamian athletes, and the Chris Brown Bahamas Invitational sponsorship is the most recent in a series of community building donations in support of athletic endeavors.  In the last year, BTC has committed over $750,000 to Bahamas athletic initiatives, including the Bahamas' Olympic team, individual athlete endorsements, and the BTC CARIFTA Games. The Chris Brown Bahamas Invitational will not only showcase international talent, but all proceeds will be used to support budding athletes in the family islands, providing equipment and gear for their training efforts.
"This BTC sponsorship gives support across the board to Bahamian athletes country-wide and to the business of sports tourism," said Chris Brown. "These international events need not only monetary support but also logistics and ground staff to facilitate them. We as a country have a lot to thank BTC for."
"A portion of the BTC sponsorship monies will go to a grass roots programme to help the developmental stages of family island athletes," said the Golden Knight. "I came from a family island so I know what it is to perform without equipment, so the programme will help as much as possible, with provision of basic needs and the help necessary to get them into competitions to bring them along.  The family islands is a rich talent source but so often left out, so this is our opportunity to help."
"BTC is proving to be a dedicated community builder by providing ongoing opportunities in many sectors of Bahamian life.  We are proud to be supporting our young athletes in their goals and will continue to provide the necessary resources to nurture the natural born talent of the Bahamas nation-wide," said Jerome Sawyer, Senior Manager of Public Relations.
Tickets for the Invitational are available now at the Thomas A Robinson Stadium, in the BTC stores at Marathon Mall and the South West Plaza, and on line at www.bahamasinvitational.com.