Has Senator Jamal Moss returned to work at ZNS as yet?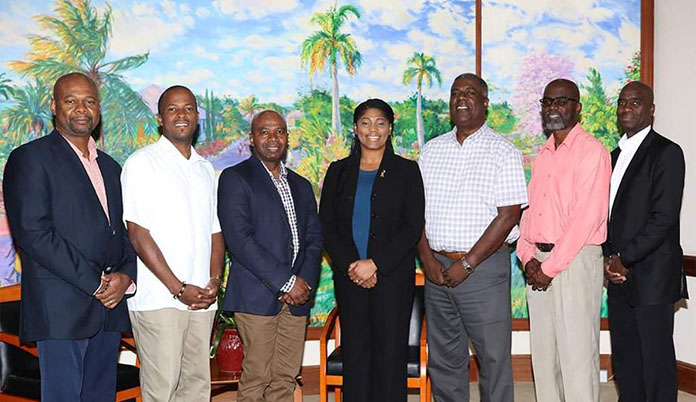 Nassau – "We've seen this movie before", cautioned Mr. Dino Rolle, President of the Bahamas Communications and Public Officers Union (BCPOU), during his meeting with Mrs. Pakesia Parker-Edgecombe, Parliamentary Secretary, for the Office of the Prime Minister. The statement was made in reference to the 'poor' management of the Bahamas Telecommunications Company, Limited (BTC) by Cable and Wireless Communications (CWC). The meeting held was one in a series of meetings, as the Union President remains committed in his fight to preserve the jobs of his members. This dedication heightened in recent weeks after he learnt of the pending downsizing at BTC and the possible outsourcing of jobs presently held by Bahamians.
During his meeting on Thursday, November 22nd, 2018 with Mrs. Parker-Edgecombe, Mr. Rolle highlighted: "Everyone would recall, Mr. Arthur Barnett, former Chairman of BaTelCo, who was appointed in 1992. He became famous for his statement, 'work or be fired'". Mr. Rolle explained that during Mr. Barnett's tenure, BaTelCo had suffered its first net lost. At the end of his tenure, the then Prime Minister Hubert Alexander Ingraham, replaced Mr. Barnett with Mr. Albert Miller who immediately turned around the profits of the company. Following this, BTC under successive CEOs, managed to remain profitable—even after the entrance of competition in November, 2016. "Eerily, history has a way of repeating itself", declared Mr. Rolle. "BTC's current CEO, Mr. Garfield Sinclair, made similar declarations about BTC's staff to the public. Not surprisingly, he too is on-track for being the first CEO in the 2000s to lead the company without turning a profit". He went on to express: "Not only are the comments counterproductive and demoralizing to staff, the poor management and fledging decline in revenues is detrimental to the government's interests, as they are the majority shareholder for BTC. To protect its investment, the government must act to preserve the share price of BTC and commit them for sale. After all, the sale of BTC shares to the public is in keeping with its election commitment to Bahamians".
Mr. Ricardo Thompson, President of the Bahamas Communications Public Managers Union (BCPMU) was also present at the meeting. He expressed his sincere appreciation to Ms. Parker-Edgecombe for affording the team an audience. He noted: "Ms. Parker-Edgecombe was attentive to the concerns outlined by the unions". Mr. Thompson stated that the unions will remain vigilant to remedy the outstanding matters for its members which include: the negotiation of the expired Industrial Agreement; past due over-time payments for staff, and; adherence by CWC to the Purchase Agreement, which will preserve Bahamian jobs.
The BCPOU and the BCPMU are the sole bargaining units for line-staff and managers, respectively at BTC.