Would Bahamas Against Crime head C. B. Moss speak to possible criminal incidents occurring in Lyford Cay?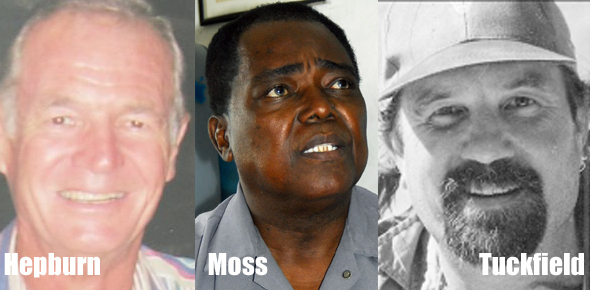 Bahamas Against Crime head goes mute on deaths! Residents now concerned…

Nassau, Bahamas — No one knows at this point what happened to Anthony [Tony] Hepburn, the 72-year-old partner at Graham Thompson and Co. who has vanished behind the gates of plush Lyford Cay.
From what we know Tony was an avid birdwatcher, who would often go out to watch wildlife and take pictures.
Sometime after 6am last week Sunday, Hepburn's wife told reporters by the time she woke up for church, her husband had already left for his bird watching trip on Goulding Cay just off Lyford Cay in the Clifton Bay. He had went bird watching the day before but was unsuccessful in his capture of photography.
Hepburn you should know recently moved into the gated community and some believe may have not been familiar with the area.
Police, according to investigative reports, found Hepburn's silvery-blue Kia Sarento parked in a vacant lot on Bay's Water Lane. Inside according to reports he may not have ever left the scene as his camera, binoculars and bird watching gear were all still in the car.
Residents behind the gates for some time now have been concerned about an estate in the area, where in 2010 a property manager, Dan Tuckfield, was discovered dead in a shallow pool at Point House in Lyford Cay. And for the past four years a number of bodies have shown up dead in or around the bay area of that particular home.
In early 2012 police pulled a Caucasian male from the water just down the road from the same spot where Hepburn's truck and was found.
"We are frightened to death in this community. To death! People are showing up missing, military speakers are being found on estates, people are being found dead in pools and pulled from the waters nearby; you must wonder what kind of gated community is this? Alcatraz?" One frightened resident said.
There is no sign of Hepburn and since this incident police have only discovered his kayak.
Bahamas Press wonders when will Rev. Dr. C. B. Moss begin to speak to these incidents as some persons are whispering how Hepburn may have been the lawyer from a hedge fund billionaire in the area; and now he has vanished in thin air.
BP calls on police to search the area thoroughly, and search every home in the community, even though they may call police "terrorists".
We report yinner decide!