Prime Minister Rt. Hon. Perry G. Christie hints his choice to head FIU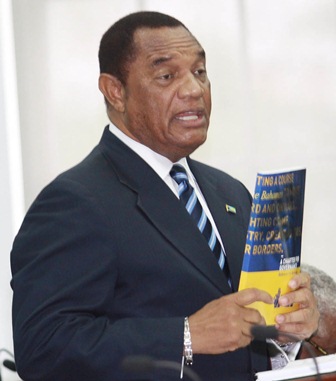 Nassau, Bahamas — Bahamas Press can report the Office of the Prime Minister is set to announce a new appointment in the Christie Government. Former Sr. Assistant Commissioner of Police Mr. Reuben Smith will be the next head of the Financial Intelligence Unit in the country.
Mr. Smith takes over from former Commissioner of Police Reginald Ferguson, who was appointed FIU Director under the Ingraham government.
The PM hinted at the appointment during the funeral service of Former Superintendent Philip Gibson today.
Former Assistant Commissioner Smith joined the Royal Bahamas Police Force on June 21st 1965 upon leaving the Government All Age School in Simms Long Island.
He graduated from the training school at Police Headquarters in December of 1965. Subsequent to graduation, Mr. Smith served as a constable in a number of uniform branches and has received numerous promotions over the years.
He also received a number of certificates for courses attended abroad such as: Police Training School in Hendon England, Police Staff College Bramshill, Training course in hazardous materials British Virgin Islands, Operational support training in Kingston Jamaica, Certificate in D.A.R.E. seminar in Bolivia.
He is the recipient of the Royal Victorian Medal for providing services to Her Majesty Queen Elizabeth during her state visit to The Bahamas in 1977.
He is also the holder of the Police Long Service and Meritorious Service Medals.