Not a word from the press or the government on why Desmond Bannister was not sworn into Office…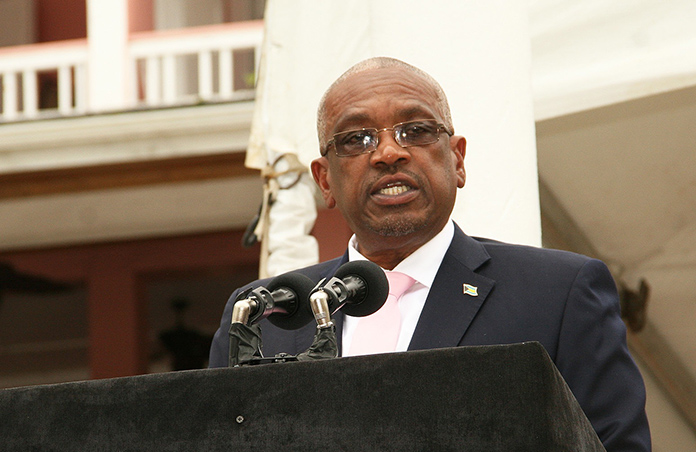 NASSAU, The Bahamas — Prime Minister the Hon. Dr. Hubert Minnis said at Government House that as the formation of the 'People's Government' continued that day, May 15, 2017, the Bahamian people deserved a government that respected time and proper functioning of government.
"My administration will be marked by order and punctuality," Prime Minister Minnis said at the Swearing-In Ceremony of Free National Movement Cabinet Ministers that day by Governor General Her Excellency Dame Marguerite Pindling. "We will strive to be an organized government. The Bahamian people want less talk and more action," he added. "Brevity is not the enemy of effective communication."
Prime Minister Minnis noted that the remainder of his Cabinet was sworn in at that ceremony; and the first Cabinet meeting of his Government would take place, God willing, the following day.
"Preparation for the Speech from the Throne, setting out my government's vision and agenda for change, will now begin in earnest," he pointed out.
"In due course I will advise other appointments, including to the Senate and diplomatic service," he added. "The reassignment of senior officers in the Public Service will also be announced at the appropriate times after consultation with ministerial colleagues; and we will begin the process of identifying individuals to serve on government boards and councils.
"The People's Government is ready to do the people's business."
Prime Minister Minnis said that, in keeping with a commitment he previously made, he would not hold another substantive ministry although some items may remain in the portfolio of the Office of the Prime Minister.
"I made this decision in order to perform my primary constitutional duty as prime minister," he said. "This primary constitutional duty is the coordination and oversight of the Cabinet of The Bahamas.
"And as I have repeatedly noted, my government will be one of collegiality, collective responsibility and collaboration. I pledge also collaboration and regular consultation with parliamentary colleagues."
Prime Minister Minnis said, as he noted previously, in order to best serve the Bahamian people, his Cabinet will blend experience with new talent and faces in government.
"The most successful enterprises, whether business, civic, religious or governmental, are characterized by continuity and change," he stated. "Innovation and transformation are rooted in building on what works and changing what does not work.
"The most cohesive and more enduring families are those that combine the continuity, the experience and the wisdom of the elders alongside the energy and dynamism of new blood ready for change."
Prime Minister Minnis related that when he was growing up in Bain Town, his mother would remind him that in order to avoid 'bucking his toe', he should get the advice of elders and of people with experience when making a decision.
Like strong families and successful enterprises, good governance requires continuity and change, he noted.
"I have lived long enough to know that you first have to understand whichever organization or system you are working in before you can bring about effective change," Prime Minister Minnis said. "Because I want effective and meaningful change and a strong team, it is essential that my Cabinet include a new generation of leaders as well as ministers with experience in government."
In this regard, Prime Minister Minnis noted that five members of Cabinet, including himself, previously served in Cabinet and 14 were serving in the Cabinet for the first time.
"A number of ministers previously served in Parliament, either as Senator or as a Member of Parliament," he said. "However, the majority of the Cabinet are new to Parliament."
The Members of Cabinet and their posts are as follows:
K. Peter Turnquest, Deputy Prime and Minister of Finance; Carl Bethel, Attorney General and Minister of Legal Affairs; Brent Symonette, Minister of Financial Services, Trade and Industry and Immigration; Desmond Bannister, Minister of Works; Renward Wells, Minister of Agriculture and Marine Resources; Dr. Duane Sands, Minister of Health; Marvin Dames, Minister of National Security; Lanisha Rolle, Minister of Social Services and Urban Development; Frankie Campbell, Minister of Transport and Local Government; Jeffery Lloyd, Minister of Education; Romauld Ferreira, Minister of Environment and Housing; Dion Foulkes, Minister of Labour; Darren Allen Henfield, Minister of Foreign Affairs; Michael Pintard, Minister of Youth, Sports and Culture; and Dionisio D'Aguilar, Minister of Tourism, Aviation and Bahamasair.
"Brensil Rolle will serve as Minister of State for the Public Service and National Insurance in the Office of the Prime Minister; Kwasi Thompson will serve as Minister of State for Grand Bahama in the Office of the Prime Minister; and Ellsworth Johnson will serve as Minister of State for Legal Affairs in the Office of the Attorney General and Ministry of Legal Affairs," Prime Minister Minnis added.
"I note that in the interest of ongoing reform in the Public Service, there is a Minister of State for the Public Service in the Office of the Prime Minister," Prime Minister Minnis continued. "As the previous Ministry for Grand Bahama had little statutory power, I advised the appointment of a State Minister for Grand Bahama in the Office of the Prime Minister, where he will have more effective power."
Prime Minister Minnis said that he believed Bahamians would be "proud" of the new "change team".
"It is a dynamic team representing a diversity of talent, ideas, as well as life and professional experience," he said. "The diversity of professional experience includes finance and business, medicine, civil society, national security and the law, among other fields."
Prime Minister Minnis pointed out that, as he stated the week before, community service and volunteerism will be a major theme of his government. In that spirit, he noted that many members of Cabinet have lent considerable time, talent and treasure in community service.
To harness and hone the talents of the members of the new People's Government, Prime Minister Minnis said that his Cabinet and parliamentary colleagues would have the benefit of an orientation program conducted by Bahamian and international experts.
"This orientation will include information on the Constitution; our parliamentary system of government; public finance; the proper working of Cabinet government; a code of ethics and other relevant areas of government," Prime Minister Minnis said. "My colleagues should remember that their role as Cabinet ministers is to set policy and to make sure that policy is carried out, not to act as administrators."
To his Cabinet Colleagues, Prime Minister Minnis repeated the charge he made the prior week at the swearing-in of two of them: Fidelity to the oath you swore today is essential in order to provide the Bahamian people with a government of integrity.
"Good and open government demands transparency and accountability," he said. "Good governance demands being responsible for our actions.
"Accordingly, I will hold my minsters to the highest standards of ethical conduct in the performance of their public duties."
Prime Minister Minnis warned his Ministers that if they engage in unsavory or unethical requests to the Permanent Secretary and he discovers or finds out, they would immediately be fired.
"And, I say to the Permanent Secretary, should you not report such behaviour and allow it to fester, you too will be fired," he said. "It's now the 'People's Time'."
Prime Minister Minnis told his fellow Cabinet Ministers that he looked forward to working with them in a spirit of collegiality and collaboration, in a government that adheres to collective responsibility.
"In congratulating you on your appointments, I commend to you the values of honesty, hard work, sacrifice and an abiding commitment to the dignity of the Bahamian people," he said.
"We must never forget that we serve as the People's Government, and that means all the people. The spirit of democracy must be our constant companion and guiding light."
Each day, Prime Minister Minnis stated, they must work to maintain the confidence and trust of the people who voted for a new day. Every decision they make must be with the intention of improving the lives of our people, he added.
"If they see us working hard; if they see us using public funds wisely; if they see us doing their business with integrity and humility, then, and only then will we have truly earned their fuller trust," Prime Minister Minnis said.
"Let us now look to this new day with confidence and courage, as we embark on a new era of transformation," he added.
—END—
PRIME MINISTER HUBERT A. MINNIS
CABINET MINISTER PORTFOLIOS
K. Peter Turnquest, DPM and Minister of Finance
Carl W. Bethel, Q.C., Attorney General and Minister of Legal Affairs
Theodore Brent Symonette, Minister of Financial Services, Trade and
Industry and Immigration
Desmond Thomas Bannister, Minister of Works
Renward Ricardo Wells, Minister of Agriculture and Marine Resources
Dr. Duane Ernest Sands, Minister of Health
Marvin Hanlon Dames, Minister of National Security
Lanisha Tamar Rolle, Minister of Social Services and Urban Development
Frankie Alfred Campbell, Minister of Transport and Local Government
Jeffrey Leonard Lloyd, Minister of Education
Romauld Sotario Ferreira, Minister of Environment and Housing
Dion Alexander Foulkes, Minister of Labour
Darren Allen Henfield, Minister of Foreign Affairs
Michael Cliston Pintard, Minister of Youth, Sports and Culture
Dionisio James D'Aguilar, Minister of Tourism, Aviation and Bahamasair
Brensil Dennis Rolle, Minister of State for Public Service and National
Insurance, Office of the Prime Minister
James Kwasi Malik Thompson, Minister of State for Grand Bahama, Office
of the Prime Minister
Ellsworth Nathaniel Johnson, Minister of State for Legal Affairs, Office of
the Attorney General and Ministry of Legal Affairs