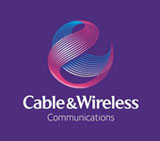 Nassau, Bahamas — Cable and Wireless LIME has shot down questions involving The Aga Khan as being a owner in the telephone giant and have further asked Bahamas Press to retract our report.
In a statement to BP the company stated:
In your efforts to deliver the news, we are pleased to share the facts with regard to C&W ownership.
CWC is 100% floated on the London Stock Exchange.

The largest shareholders are US and European pension fund managers (normal for big listed companies).

The only link with the Aga Khan is that our Monaco business, Monaco Telecom has a small investment (20%) in a mobile business in Afghanistan, called Roshan.

Roshan is also part-owned by the Aga Khan's development fund, Akfed. We don't run Roshan and we have almost no contact with Akfed, let alone the Aga Khan.

Monaco Telecom is just a joint shareholder in Roshan, along with a third investor, a Swedish telecoms company called TeliaSonera.

The Aga Khan holds no significant shareholding in CWC.

The story as it was sent yesterday was not accurate and I trust, in the name of journalism, a correction will be issued.
Bahamas Press therefore wishes to update our readers to this development and apologies to The Aga Khan and his affiliates for any inaccuracies reported.