Here is a perfect Picture which best describe the way Papa is breaking down the Bahamian people. File Photo
BREAKING NEWS <<<
Bahamas Press confirms Cable and Wireless handover signing has stalled.
BP reports the 11AM Press Conference and signing was cancelled because as told to us by a senior high-ranking official in the OPM, final approval from the Grand Bahama Port Authority was not given. WELL MUDDO!
The source went on and told us, BTC paid a $3 million licensing fee annually to the GPA and PAPA in his haste to get rid of BTC for a fire sale price, did not take this into consideration. In fact, MR. Know IT ALL DID NOT KNOW THIS! He has rotten eggs all over his face this morning. And in Papa own words he has been MOST NEGLECTFUL; 'Horrifiably' so!
Another source in the Ministry of Finance said, "This what happens when you have a leader who only matriculated at night school."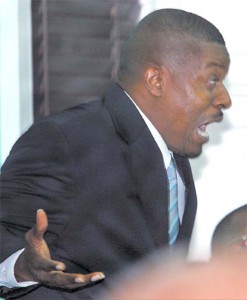 Papa over the last two years have insulted the owners of the port Authority and did not renew the work permit of its Chairman, Mr. Hannes Babak. This is what ya get when ya know it all and attack private citizens as he did with the Robin Hood owner.
The PM we are told went to St. Anne's School this morning and following his visit an update on the situation forced PAPA to cancel the press conference and signing.
WELL BLOW US DOWN! PAPA NEED THE MONEY BUT HE DIDN'T know he needed approval from the PORT! Boy Papa dumb eh?
WHAT IN THE HELL IS THIS?