Carl Wilshire Bethel - FNM Chairman.

FNM Chairman agrees crime is major national problem as he kicks fellow FNMs under the bus…
Nassau, Bahamas — Crime and the fear of crime is showing up to be worst then ever before, and at least one FNM politician is agreeing with the PLP.
Soon to be sacked FNM Sea Breeze MP Carl Bethel is reporting in the BIG T this morning that crime in the Bahamas has made a turn for the worst.
This past Thursday BP reported how Minister for Lands and Local Government, Byron Woodside, was the latest victim to have his home invaded and ransacked by thieves.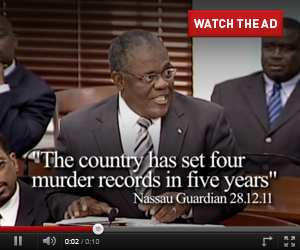 Sometime after 3:30 pm yesterday, some unknown persons gained entry into the minister's home at the back entrance, and removed a number of valuable items including a 42" flat screen TV. Bandits also removed Woodside's shotgun, surround-sound system, 5 gold watches, 3 gold chains, a sex toy and his entire desktop computer system.
Echoing the PLP that crime has become a vexing national problem, Chairman of the FNM threw Minister of National Security Minister Tommy Turnquest under the bus.
Bethel said, "Crime is a concern of every citizen. It is not unimaginable that criminals would target politicians as they are out a lot of the time campaigning.
"All I can say is that it falls on all of us to do our very best to seek out as much security that we can, in terms of taking steps to ensure that we are not victims."
A few months back, thieves held up and stole the vehicle of Parliamentary Secretary, Brensil Rolle's wife as she returned from the grocery store. All of the food was taken in that armed robbery.
Back in 2007 Tommy Turnquest you would remember told voters an FNM government will eliminate crime and its fear when elected to office.
By the contrary has occurred. From Murder to armed robbery to thief in the Road Traffic Department crime has made a turn for the worse in the Bahamas.
Following the National Stadium opening last weekend, a number of residents reported their vehicles broken into and some returned to the parking lot all to find their car vanished in thin air.
Hubert Ingraham vowed Thursday to strengthen his fight against crime telling residents in the Fort Charlotte Constituency it cannot be done over night.