Bethel joins Christie's team on Constitutional Commission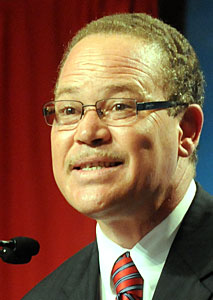 Nassau, Bahamas — Ousted FNM Chairman! Fired former FNM Cabinet Minister, and wounded former MP for Seabreeze Carl Wilshire Bethel is officially a seat-less wonder these days as for the first time since 1992 he has no title or position politically whatsoever!
These days Bethel is wearing dark clothes as he could only live in the past memory of his now deceased political career. Some wonder if Bethel could still find a cigarette these days and he is already showing signs that he misses the Parliament's Smoker's Room.
Bethel, many would remember, was deposed as chairman of the FNM and replaced by a man who broke up the CDR and lead the PLP into defeat in 1997 as vice chairman, Charles Maynard.
But, as guests and citizens witness Bethel walk on Bay Street in his dark attire these days, some are wondering if a crisis has developed for the bruised former politician who was a high prospect to lead the FNM into the future.
But some pity has fallen on Bethel from current Prime Minister Rt. Hon. Perry G. Christie who recently named the politically dead MP as a member of his new Constitutional Commission.
Christie proved this week that he is leaving no Bahamian behind and intends to lead a government will all PLPs, FNMs and DNAs having some input into the future of the country.
Christie noted recently he intends to break the political divisions within the country and remove the grip of gridlock created by Ingraham who politically spited PLPs, FNMs and DNAs!
Bethel will join former Justice Rubie Nottage, Mark Wilson, Lester Mortimer, Tara Cooper-Burnside, Michael Stevenson, Dr. Olivia Saunders, Michael Albury, Chandra Sands, Brandace Duncanson and Carla Brown-Roker.
The Commission will be headed by former Attorney General Sean McWeeney, and will lead a number of discussions and town meetings with the public on Constitutional changes as the Bahamas moved to its 40th Anniversary as a nation.
It's a NEW DAY!!!!