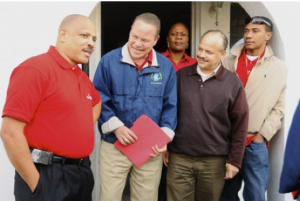 Nassau, Bahamas – Residents in Sea Breeze Constituency should ask their MP, Carl Bethel, why is he running what appears to be a virtual "CRACK HOUSE LOOKING" constituency office on the main road of the Prince Charles Highway.
Papa is building a superhighway in the eastern area, and in full view of the public sits this eyesore. It appears that a derelict vehicle is parked in the yard, making the building look like a Stanford and Sons Bahamas branch. The grass is high, the windows busted, littered with card boards and posters blocking the view inside. The white paint looks flaky; the porch dingy and to put it blunt, the building looks "DUTTY"! We believe if you open the door and look inside someone would be smoking pot!
Never in our wildest dreams had we envision such a NASTY LOOKING place would be regarded as a shelter representing FNMs in the community. Abandoned, Neglected, Abused and Scary best describes it. The place looks horrible; it looks like an extension of the City Dump on Prince Charles.
Carl you 'gata' do better man! YOU NEED TO DO BETTER! Residents should know Bethel is the CHAIRMAN of the FNM, and constituents should take a good look at the place their 'representer' wants them to visit! Besides that, all MPs collect $18,000 a year to upkeep the branch office, so where is the money going to run this scrap metal looking dump site facility?
Bethel should not expect BP to stop by and drink VODKA or smoke Salem cigarettes in that nasty looking branch office eh? The voters in Sea breeze should not encourage such a DUMPSITE to exist.
THE BRACH IS ON THE DAMN HIGHWAY FOR GOODNESS SAKE! NOW DAT GATA CHANGE!
Just a reminder, this is Carl Bethel week on BP…Stay Tuned!