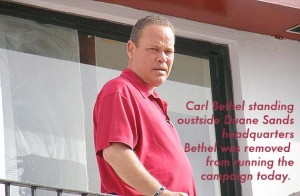 Nassau, Bahamas — Bahamas Press reports the uncovering of a web of deceit now being spun on facebook against PLP MPs allegedly by Peter Carey, Carl Bethel and Zhivargo Laing.
Communication brought to our attention proves possible criminal actions could be brought against the men for FRAUD. We are told the men, including Minister Laing could all find themselves under investigation by the Royal Bahamas Police Force following an investigation of the plot, and here's what we know.
According to an email viewed by us, an instruction allegedly circulated by the men, conspires to circulate online a fake email suggesting commentary by a PLP politician. The "FAKE" email was posted on facebook yesterday and widely circulated online.
The note we are told accuses a senior PLP of commentary relative to the campaign, however, according to lawyers dealing with the post online, no such information was stated by the senior PLP.
"The document posted on facebook is a fraud and from what we see, three operatives of the FNM, including a member of the Cabinet of the Bahamas foiled the fraudulent post now circulated," a lawyer told BP.
BP has learnt a legal team has assembled over the information last evening for action to possibly file charges against the three believed to be at the centre of the fraudulent plot.
No comment has come from FNM Chairman, Carl Bethel, who is believed to be at the centre of the instruction.