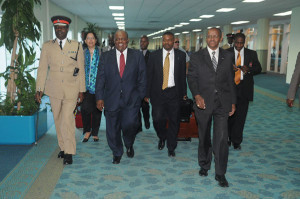 Nassau, Bahamas — Not a soul knew where Prime Minister Hubert Ingraham was before Bahamas Press made reports of his visits to John Hopkins in Baltimore, Maryland. The Tribune quickly noted that the Cabinet Office released on Saturday that the PM was on holiday.
Now that is strange. Hubert Ingraham usually prior to leaving announces through the Cabinet Office his official holiday travels.
Readers would remember days before Papa left for China his travel plans were announced. Days before his trip to the Royal Wedding that too was made public. And last year and the year before that when papa went on his official vacation cruise and returned, BIS photographers along with the Commissioner of Police would escort the nation's chief through the airport. But this year, it was different.
We don't know what the Tribune is talking about when they suggested the Cabinet released "Saturday" the PM travels, because if you go on the website of the Government, the last press statement by it was July 22nd. Not a word about his travels are on the government's official site. If you read the Tribune or The Nassau Guardian, you cannot get any information as to where he has gone or which cruise he has selected this year. Hmmmmmm!
If you listen to any of the other broadcast media not a lick from the Cabinet Office is mentioned. NOW ISN'T THAT INCREDIBLE!
We did discover, however, on Sunday 7th, posted at 7:33PM almost three hours after our report, the following from BIS:
"Prime Minister Hubert Ingraham and Mrs. Ingraham will depart Nassau for their annual vacation on Sunday, 7th August.

"Prime Minister Ingraham and Mrs. Ingraham will return to the Bahamas on Thursday, 18th August."
Just two weeks ago the PM was announced to have traveled to the US for a meeting. Some people thought it was another Wikileaks meeting.
We stand by our report. The PM is meeting with doctors at John Hopkins University Hospital and as the saying goes, time will tell.
Bahamas Press understands there will be NO Cabinet Meeting tomorrow. Papa don't trust a soul.
We report and 'yinner' decide!