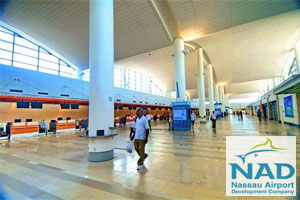 Nassau, Bahamas – Sources deep in the Free National Movement have confirmed not one member of the organization has been given the opportunity to handle the cleaning contract at the new Sir Lynden Pindling Airport.
Speaking in absolute anonymity, the senior officer inside the FNM said it was shameful to discover that the FNM government chided it own members when it came to granting a contract to clean the bathrooms at LPIA.
"When I discovered that a contract existed to sterile the 'terlets' at LPIA, I leaped for the opportunity and made application for the contract. Since that application was made, I have yet to receive word on the contract. In fact, I never knew who was granted the contract until last week and to my amazement another foreign company was selected over Bahamians."
BP has been reliably informed that the Government approved the services of a Vancover Canadian based company to clean the 'terlets' at LPIA.
"This is 'vicked' and is an act of betrayal to FNMs and the Bahamians people. You mean to tell me not even Frank Hanna could clean the bathrooms at the airport? This is shameful to see my party once again stooped to such lows in its treatment towards Bahamians. It is incidents like these that will trip the FNM down and send us into outer political darkness for a long time," the FNM member said.
The decision is one of many where the FNM government has chosen foreign labour over Bahamians. They chose Chinese and Argentineans to build roads, Asians to build the country's website, and appointed a Jamaican to prosecute Bahamians as DPP. And now a Canadian based company is selected to clean the lavatories at LPIA!
We wonder who will get the contract to clean the most expensive bathroom in the Caribbean located at Saunder's Beach. The $270,000 facility is yet to be opened by the government.
Bahamians need not apply is the new mantra of the FNM!