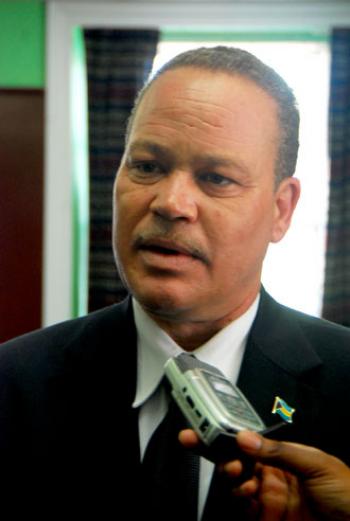 <<< Carl Bethel is the most wutless minister of  the highest order ever seen in the history of The Bahamas. From Rapes to molestations, abuse, gangs, murder you name it and it happened under his watch as the 'chief police' of the public schools. Things was so bad for him in education his own son raped a 13 year old girl at Queen's College. Carl covered up the matter. Teachers walked out on Bethel, children scoffed at him. Parents called for his resignation and now FNMs want him out! He has become BP's new 'washed up has been egotist' who has no SHAME!! YOU HAVE NO SHAME BETHEL…YOU HAVE NO SHAME!!! You should be embarrassed for the state you've left the ministry of education!
Nassau, Bahamas — The now defeated minister of education, Carl "UNDERNOURISHED" Bethel, appalls Bahamas Press as he attempts to respond to our article on his WUTLESSNESS in overseeing the Eight Mile Rock High School molestations.
Bethel, you would know, was a special guest on the Muppet Show [ZNS TV] last night in a desperate attempt to fix his atrocious record, which dubbed him the worse minister of education in the history of The Bahamas! During the interview Bethel sought to suggest his ministry could not do anything to block pedophile, Andre Birbal, from absconding the country after molesting more than 20 boys at the EMRH School.
Bethel was seen shaking like a cocaine addict as he told viewers last night, "The ministry and I were unfairly blamed for his [Birbal] having absconded the country.
"The Ministry cannot suspend someone's passport or confiscate it. It cannot protect the boarders." Neither, Bethel added, nor does his ministry have the right to intervene in a matter between two individuals.
Now we see why Hubert 'Papa Doc' Ingraham fired this 'Red Munchkin'. How could a minister, charged with responsibility to police the school system, conjure in his mind that neither he nor his ministry has any authority to intervene in matters between two individuals? Is Bethel here suggesting that Birbal and his victims were consenting adults? 'VELL' CALL THE POLICE! Is the now 'failed minister' suggesting the children agreed to have sex with the teacher, thus he could not intervene? Bethel cannot be out soon enough. MUST HAVE GONE MAD!
B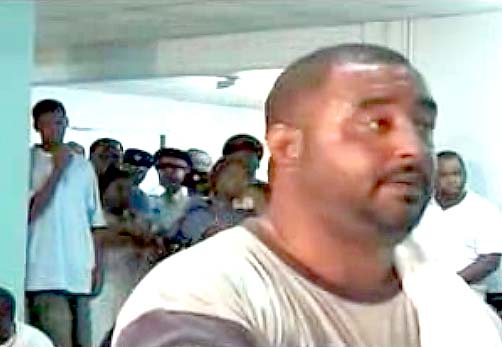 ethel and Education, we know, avoided Troy Garvey who first brought this matter to the public along with two victims after Bethel refused to respond to their concerns. Children were being molested and Bethel did nothing to STOP IT!

Bethel and Education also refused to see or listen to the victims who reported the incidents from 2007.

Bethel and Education denied the incidents ever happened after being told so by victims.

Bethel and Education, after the story of pedophilia was known, then authorized acting director Lionel Sands and later ZNS reporter Clint Watson to communicate there was "NO CASE" or anything criminal which occurred at EMRH. BOTH SHOULD HAVE RESIGNED WITH BETHEL!!! ZNS in their normal 'subjective' ways never interviewed any of the victims, who were constantly beating on the doors of the POLICE, the MINISTER and the WUTLESS MEDIA for help! All institutions ignored their cries and sought to hide the matter.
Bethel and Education we know PAID IN FULL Birbal his compensation just days before he fled the country and was seen in the Cambio in a Florida airport changing his money. We reported this, NOT the WUTLESS MEDIA!
And now Bahamas Press can confirm that a Cabinet decision "rejected" the idea of seeking JUSTICE for the CHILDREN OF EIGHT MILE ROCK and together members REFUSED to issue an extradition request to have Birbal returned to The Bahamas from The United States where he was held in custody during the summer of this year.

We cry SHAME! SHAME! SHAME WE CRY ON THIS WUTLESS INGRAHAM GOVERNMENT FOR FAILING THE YOUNG PEOPLE OF GRAND BAHAMA, FNM COUNTRY!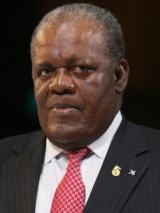 Bahamas Press could never sit around the table of the Cabinet and allow such a 'VICKED' act to be done against the children of this country.
Now that the minister has resigned from office, we want 'Papa Doc' to know, young people of this country will REJECT your betrayal of JUSTICE against the children of EMRH! And we are pained to see you [Hubert Ingraham] failed them in this way.
In 20 months this FAILED FNM government will be NO MORE!
We the Bahamian People DEMAND Change! Change is coming baby!
Educators at EMRH School left abandoned outside the school during a special called meeting early this year. Carl 'Undernourished' Bethel picked up and walked out of the meeting refusing to engage the professional of his ministry. As we said before, he was suffering from the MOLD in his head! It's the mold!