Government Worker Arrested in Strip Club Following Officers Raid….

Copacabana West Bay opposite St. Albans Drive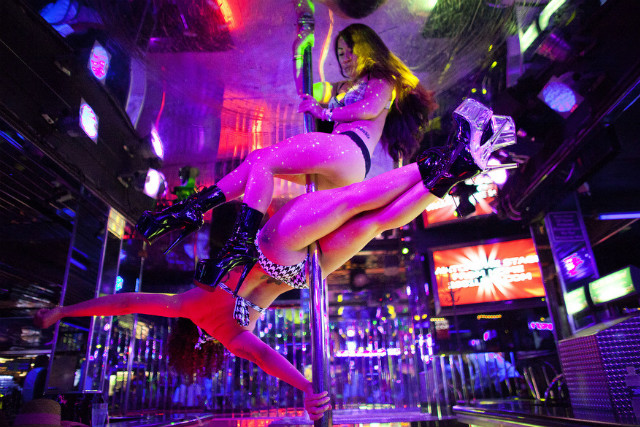 Nassau, Bahamas — 'Jungaliss' could not get their groove on at Copacabana West Bay Street opposite St. Albans Drive in western New Providence last night following a raid on the establishment that locked up a ton of male and female patrons at the bar.
Sources confirm one woman has just climbed a pole bald naked upside down when police stormed into the party.
One of the patrons who was arrested was about to marry in the morning and, after getting arrested, had to explain to his wife-to-be how his hand got caught down the pants of another woman during the bust.
Another male locked up in the takedown is a married government employee who begged like a baby in Huggies pampers for his release. He's now in the doghouse with collar and leash, all tied by his wife.
The takedown is in keeping with priority one of the Commissioner's Policing Plan for 2012 which speaks to "Tackling Crime".
The team of Central Division Officers arrested twenty-six (26) persons during a raid at the 'Strip Club' on Friday 7th September 2012.
The incident took place at 11:45pm just after the pole dancer presented her birthday suit to the crowd. Police arrested three (3) employees, eleven (11) exotic female dancers and twelve (12) male patrons for various offences.
The offenses include: operating a Business in Breach of the Business License Act, Soliciting for the Purpose of Prostitution and Breach of the Immigration Act; ALL OFFENSES CHEATING THE TAXPAYERS!!!
Police subsequently closed the nightclub for operating in Breach of the Business License Act.
Police wish to warn night club owners who are allowing persons to engage in illegal activities on their premises that if they continue to allow it to happen, police will continue to target them.
And now Bahamas Press is advising the police to go after one of their own. There is another strip club, believed to be owned by a police officer on the top of Blue Hill Road opposite the C. R Walker High School.
The club is also a hazard to the traffic flow as patrons park constantly in the middle of the road and head into the club. No one is above the law and someone gata deal with dat!
We report yinner decide!