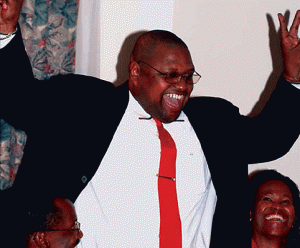 Charles 'Pillsbury Dougboy' Maynard went to the Parliament yesterday and talk for over three hours about a Sports Bill.
The Bill was designed to establish an authority to manage sports in the Bahamas. Now forget the role of the Ministry of Sports, they say the bill is necessary to manage and put in place important leadership at the various sporting infrastructure all over the county.
But by lunchtime B.J. Nottage was reading a different Bill. Now BJ, the competent PLP, read from the correct bill signed by the minister, but the minister who was responsible was reading something that was not approved by him. The entire exercise had to be cancelled, the bill withdrawn and the House suspended until the end of the month. WHAT A WASTE OF TIME!
Now what kind of SMUDGY JACKASS leadership is that? The man who is responsible for tabling the Bill spoke to the wrong bill – FOR THREE HOURS!
Perhaps Charlie's mind was still on Carifta and ventured into what he was doing while not at the games.
Sources tell us the Pillsbury appeared only to present medals and disappeared the rest of the time. We wonder what he was doing with all that idle time.
WUTLESS!