<<< Sexual Predator Sir Michael Barnett's [R] appointment  as Chief Justice continues to raise concerns.
Nassau, Bahamas — The appointment of former Attorney General and now Sir Michael Barnett to the office of Chief Justice of The Bahamas continues to raise the ire of the local populace. First it was the official opposition Progressive Liberal Party protesting the appointment, and now the Bahamas Democratic Movement is voicing its unequivocal objection to the appointment, while insisting that it is not a question of the Chief Justice's integrity, but the appearance it creates.
"Given that he was a senior advisor to the Cabinet, with government cases coming before him, will he be fair will he be impartial," asked Cassius Stuart, leader of the Bahamas Democratic Movement.
Of equal concern is the fact that Sir Michael was also a senior partner in the law firm Graham, Thompson, which was involved in some of the biggest cases before the courts, and in which he was a pivotal figure.?

"These cases may now have to come before him," says Stuart. "The question is, he may be an impeccable lawyer, he may be an individual who may be unbiased, but the semblance of it is important."
There has also been vociferous opposition to the appointment from the Bahamas Bar Association as well as the Bahamas Chamber of Commerce, with Bar Assocation President, Ruth Bowe-Darville, a clear sign, say Stuart, "that most of the stakeholders in our society thinks that the appointment is wrong".
Opponents of Sir Michael's appointment point to a lists of his past associations, beginning with his selection as the governing Free National Movement's candidate in the Ft. Charlotte constituency during the 2007 General Election. That race he lost to Alfred Sears, Attorney General and Minister of Education in the Progressive Liberal Party's government, from 2002 to 2007.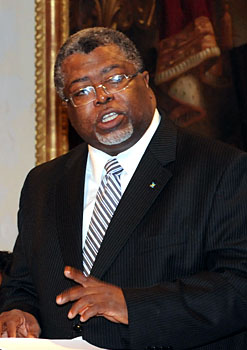 Sir Michael served as Attorney General from August 2008 until his appointment on August 24, 2009 as Chief Justice, causing many to say that his membership in the Cabinet will cause the perception of bias.
The Bahamas Democratic Movement leader also pointed to the chance that the many could question the integrity of the judiciary, which the Bahamas can ill afford at this time. ?Stuart also questioned whether this is also a case of discrimination, as there are at two female judges (Marilyn Meeres and Anita Allen) who are eminently qualified, but may also disagree with the government politically.
Said Stuart, "Are we overlooking individuals because they are females, or perhaps they don't agree with your politics."
He wants Sir Michael to "do the right thing", a sentiment echoed by his deputy Omar Smith. "In our Westminister system, Mr. Barnett should do the right thing and step down. We don't need there to be questions about our judiciary, especially when there is such a problem with crime, people must believe they are going to get a fair shake," said Smith.? ?