If you like Kit Kat you want to read this story – BP is calling for a boycott of all chocolate as abusive child labour is at the centre of our concerns… Little Children separated from families and not paid while Corporations rake in billions…
ACCRA, Ghana (AP) — Children continue to work in hazardous conditions on farms that supply cocoa to Nestle in Ivory Coast, the world's largest cocoa producer, but the multinational company is taking concrete steps to root out the practice, a labor organization said Friday.
The Fair Labor Association, an international group that evolved out of a U.S. presidential task force in the Clinton White House, said that industry efforts to put an end to child labor in Ivory Coast have been stalled by a recent civil war.
There are "challenges to eliminating child labor on cocoa farms in a nation still recovering from a divisive civil war, which left rural areas with devastated infrastructure and few alternatives for Ivorian children," the report says.
An investigation by the FLA, which began in January, followed an announcement that Nestle was partnering with the nonprofit to probe the cocoa fields that supply its products. It was the first time a food company has joined FLA, which used the same approach with sweatshops when big-name apparel and shoe manufacturers wanted to overcome criticism over child labor in their operations.
"Our investigation of Nestle's cocoa supply chain represents the first time a multinational chocolate producer has allowed its procurement system to be completely traced and assessed. For too long child labor in cocoa production has been everybody's problem and therefore nobody's responsibility," said association President Auret van Heerden.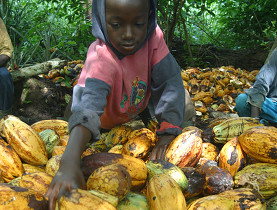 The group said there are no local laws in place to provide fair and safe working conditions on Ivory Coast's cocoa farms and that 72 percent of reported injuries result from the use of machetes. The group also said there is little opportunity for workers to organize.
But persistent child labor is the "primary cause for concern," the group said.
Major international cocoa manufacturers started coming under fire for child labor on cocoa farms more than a decade ago. In 2001 cocoa industry representatives signed an agreement to rid the industry of the worst forms of child labor, but according to a report by Tulane University, little progress was made in ten years.
About 600,000 children in Ivory Coast work on cocoa farms, out of about 2 million farmers, according to the latest U.N. figures. Small family farms supply cocoa manufacturers and are spread out in remote areas of Ivory Coast, making them hard to monitor.
The Geneva-based International Cocoa Initiative, a partnership between industry, civil society and labor groups says child labor is largely a consequence of unsatisfactory school access and poverty.
The International Cocoa Initiative said Friday Ivory Coast has made progress in recent months in driving through major reforms on child labor legislation, including a new national plan to combat child labor.
In response to FLA's recommendations, Nestle developed an action plan with benchmarks to be completed by the end of 2012, 2013 and 2016.
"Now that we know where the risks are highest, Nestle can begin to hold participants accountable throughout the supply chain," said van Heerden.