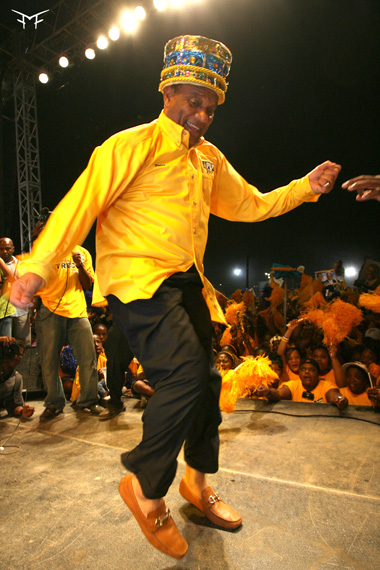 <<< Former Prime Minister Perry 'Pussy CAT' Christie at his BEST doing the Christie Shuffle at a Mass Rally during the 2007 election campaign. The PLP leader has earned the NAMES WUTLESS, LAZY, DO NUTTIN SHUFFLER and 'PUSSY CAT' following his defeat at the polls. Christie never ceases to amaze us, here he is at his best, acting like a donkey dress in shoes.
Perry 'PUSSY CAT' Christie must be living as Margaret Thatcher says in, "Coo Coo Land".
Clico Bahamas has collapsed and is being liquidated. Millions, yes millions, of the Bahamian people's investments in that insurance company is NO MORE. Operators at CLICO played a Ponzi scheme in The Bahamas, whilst Christie and Ingraham play the cartoon characters of 'Twiddle Dee and Twiddle Dumb'. One saying he don't know something is
wrong at CLICO, the other saying someone would soon buy Clico.
The 'Bald Head Monk's' statements do not surprise us, but to hear that the former Minister of Finance AKA 'Pussy Cat' Christie say he knew nothing about the problems at CLICO, stirs the question, WHAT WAS CHRISTIE DOING? HE WAS SLEEPING IN THE WHEEL!
Now examine Christie's statement if you will. Christie says he did not know money was hemorrhaging out of the failed insurance company where more than $50 million was moved under his watch. Now that's amazing!
With that being said, the second thing that puzzles us is that fact that since the collapse -where over 30,000 policyholders have lost everything – Christie has not offered a single word of concern for the victims of CLICO? WELL MUDDO! Nothing has come from Christie for the mother who lost her daughter's entire education fund The child was due for college this September. But CLICO has gone belly up! My goodness  Christie didn't have the nerve to even offer a prayer for the hundreds left holding the bag. AND WE KNOW WHY! And this is the same man who wants to drive the wheels of this country AGAIN. FOR WHAT!? So he could write-off the bus this time?
The next time one of you policyholders of CLICO see Christie, ask him to please answer this question. How much money did CLICO pump into his May 2007 election campaign? Or better yet, ask him what was that Trinidadian associate with interests in CLICO doing daily at his residence during the days leading up to the 2007 election?
Christie isn't telling all people what he really knew about CLICO, and he's being awfully quiet upon its COLLAPSE! hmmmmmm!