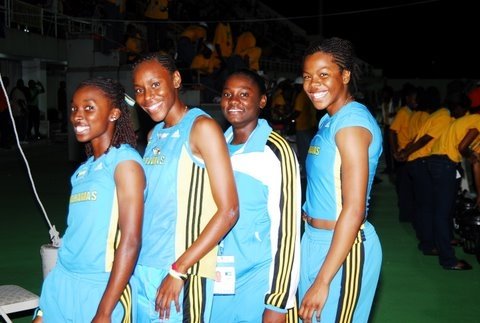 Bahamian track relay team pose for this CARIFTA shot. Photos by Kermit T. Below are more shots of the team now in St. Lucia.
VIEUX FORT, St Lucia, Mon. April 13, 2009: The `Sprint Capital` of the Caribbean is keeping a firm lead on the medals count in the 38th annual CARIFTA Games in St. Lucia.
The country that has produced the world's fastest men twice over, had 29 medals as of last night – 15 gold, 8 silver and 6 bronze medals so far. They were followed by Bahamas with 11 and Barbados with 9. Trinidad and Tobago has 8 while host St. Lucia has three so far.
Jamaica's Carrie Russell ran away with the women's under-20 race. The IAAF World Junior championships bronze medalist and defending CARIFTA champion led a Jamaica 1-2 in the century, with Jura Levy in second, and Allison Peters taking bronze for the US Virgin Islands.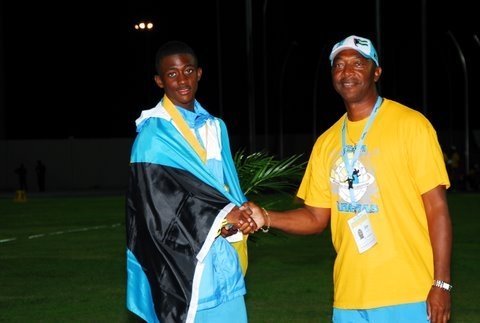 Nikita Tracey returned 57.79 seconds to win the under-20 girls 400 meter hurdles ahead of teammate Danielle Dowie who posted 57.88 seconds for second. Jjanieve Russell also secured the gold in the under-17 girls 300 meter hurdles posting a meet record 41.30 seconds to win the event.
But Grenadian athlete Kirani James also did his country proud by running 45.45 seconds for first in the 400-m and breaking Usain Bolt's six-year-old CARIFTA record of 46.35 in the process.
The 16-year-old confirmed his coach's opinion that he can go under 45 this year. `I have not really trained for 400 yet this season,` he said. `I'm really hoping to dominate at the World Youths.`
Also shining was Shekeim Greaves, hailed as Barbados finest schoolboy sprinter since Obadele Thompson, who overcame a poor start in the men's race to clock 10.23 seconds in beating Warren Fraser of the Bahamas and Kemar Bailes-Cole of Jamaica.  Barbados athlete, Kemar Jones, swept aside the competition in the U-17 Boys High Jump and won Barbados' first gold medal.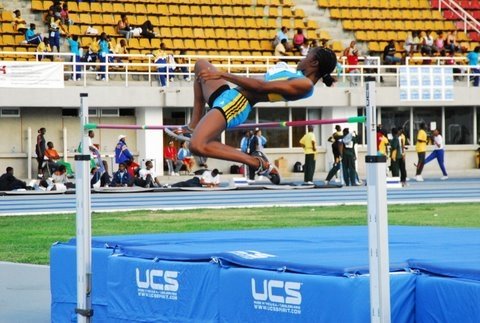 Jahazeel Murphy, a 14-year-old Jamaican, justified his pre-meet press, blowing past Jonathan Farquharson of Bahamas (10.59 seconds) and Johnathan Holder of Trinidad & Tobago (10.62) to stop the clock in 10.41 seconds and confirm his status as the next heir apparent to Bolt's recent CARIFTA legacy.
The girls' race ended again in a Jamaican 1-2, this time for Deandre Whitehorne (11.38) and Shericka Moulton (11.69), the latter beating the impressive Chantelle Morrison of the Cayman Islands by a few thousandths of a second, as Morrison was also given 11.69 for third.